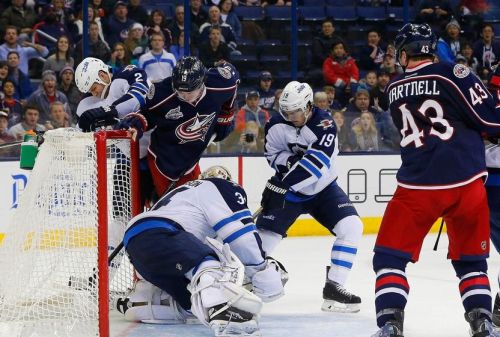 Welcome to "Three things", your recap-like-substance for Columbus Blue Jackets games. No one wants to read "this happened, then this happened" boring recaps, so instead of doing that, we'll look at three important things from the night's action and talk about those.
Let's get right into last night's 4-2 loss to the Winnipeg Jets.
That escalated quickly
Who knew the Jets were the masters of the quick-strike offense? Bryan Little kicked of the scoring just nine seconds into the game, beating Bob to make it 1-0. Then, in the second period, Evander Kane (power play) and Andrew Ladd scored just: 31 apart to give the Jets the commanding 3-1 lead.
At this point, I don't know how the Blue Jackets can get themselves going for games. It seems like every little bit of bad luck they could have possibly mustered has come crashing down on them this season, whether that's through injuries or quick goals against.
Ryan Johansen made it interesting with about 10 minutes to go, but everyone in the building had a pretty strong feeling that it was over after the second intermission.
Maybe not that unlucky
I touched on it in a much longer piece, but all this bad luck that has basically flushed the 2014-15 season down the drain for the Blue Jackets might not be all that unlucky after all. I mean, the deepest draft in ages is supposed to be on the horizon and there just happens to be a pair of future superstars available at the top of the draft.
Can you imagine if the Blue Jackets lucked into Connor McDavid and then paired him with Ryan Johansen? Who in Blue Jacket nation would be upset with that? Who would look back at 2014-15 and say "you know what, I'm not happy"? I get that losing sucks, especially on the heels of a successful season last year, but sometimes it's not all bad. Adding a star player like that would make the already pretty deep Jackets that much more formidable and give them an undisputed star to build around. Not to mention it would let Johansen work without being hounded by top defensive pairings and who knows what he could do with that little bit of slack?
It's not all bad, Columbus.
They have goaltending now?
It seems like for years now, the Jets have gotten underwhelming goaltending from Ondrej Pavelec and backup-du-jour. Bloated goals against averages and disappointing save percentages, yet Pavelec would see enough games and shots to put him among the league leaders in both categories.
This year, he and backup Michael Hutchinson (who got the start and the win last night) have been sharp. Hutchinson turned aside 32 of 34 en route to the win and has been otherwise steady in limited appearances this year.
It's a shame for the Jets that the offense has struggled so mightily this year; if they had gotten this kind of netminding in years past, the playoffs may have been their destination.
Follow me: @TwoPadStackRW