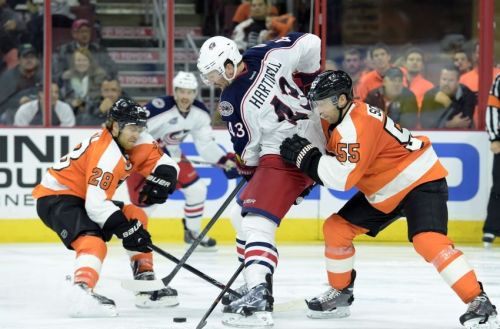 Welcome to "Three things", your recap-like-substance for Columbus Blue Jackets games. No one wants to read "this happened, then this happened" boring recaps, so instead of doing that, we'll look at three important things from the night's action and talk about those.
This is a weekend edition, covering back-to-back wins(!!!) over the Philadelphia Flyers and San Jose Sharks.
Take Charge Early/Power-Power Play
Right off the bat, there was one noticeable difference between these two games and the previous nine: instead of giving up the early lead and playing catch-up, the Jackets were the ones who came out and grabbed the first lead of the game.
In both instances, a defenseman potted one for the Blue Jackets to give them a first period lead (James Wisniewski on Friday, David Savard on Saturday). More importantly, the Jakcets grabbed the lead in the second period of both games and never looked back.
Wisniewski was huge for the Jackets on Friday, netting a pair of power play goals. As a matter of fact, the power play as a whole was fantastic over the weekend, netting four goals in two games (three against the Flyers). Both were huge reasons the Jackets went from a nine-game losing streak to a two-game winning streak.
#1 Cop on the Force!
After another fairly rough outing for Curtis McElhinney, Saturday was the welcomed return of former Vezina Trophy winner Sergei Bobrovsky. Bob had fractured his finger earlier in the month and returned to the lineup just in time for the Jackets.
He was outstanding for the Jackets, stopping 36 of 37 shots including a late Sharks power play. It was a four-minute penalty to Alexander Wennberg and Bobrovsky turned away all three shots on the man advantage. It was his first win since the last time he beat the Sharks back on October 23rd.
If the Jackets don't want to join the Connor McDavid Sweepstakes, they'll need a healthy Bobrovsky to help carry the load and play at a level similar to his Vezina Trophy form of two years ago. If last night is any indication, he's more than capable.
Two Pillars
Speaking of guys who need to carry the load, can you possibly ask more of Ryan Johansen and Nick Foligno? Johansen has come back from an unfavorable situation to post 20 points in his first 17 games, including four assists on Friday night against the Flyers.
Foligno, meanwhile, has continued to exceed all expectations and truly become a focal point of this team. He's normally a 15-goal, 30-point player over an entire season, but he's already got nine goals and 18 points through his first 16 games. He had a three-point night on Friday.
If it weren't for the efforts of these two, things might have gone even uglier for the Jackets over the last few weeks. Though they might not get any traction on a league-wide basis, Foligno and Johansen are both turning in MVP-caliber seasons.
Follow me: @TwoPadStackRW
Love Reading About Hockey?

Subscribe to keep up-to-date with the latest and most interesting hockey news!
| | |
| --- | --- |
| | We hate spam just as much as you |