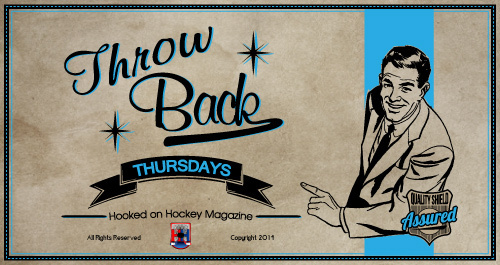 This edition of Throwback Thursday isn't going to focus on this specific date in time. Lots of people do that and it's full of boring little facts that few truly care about.
No, instead we're going to take a look back at the NHL Draft, a favorite activity of many NHL fans. More specifically, we're going to take a look back at one of the worst NHL Drafts in recent memory: the 1999 NHL entry draft.
Before we get into just how terrible this draft was, consider this: just six players selected that year would make an NHL All-Star Game while only four of those would be voted to the NHL's postseason All-Star Team. Only six standout players in the entire draft. That is absolutely astounding.
Now let's get more specific. The first overall pick was Patrik Stefan, the very first pick in Atlanta Thrashers history. He isn't even remembered for his time in Atlanta; the only thing people really seem to remember him for is this:
http://www.youtube.com/watch?v=k1Z9UspUHqg
The rest of the first round wasn't much better. Brian Burke was smart enough to move up into the draft so that he could select both Daniel and Henrik Sedin, hands down two of the best players this draft produced. The Boston Bruins and Ottawa Senators found All-Stars in Nick Boynton and Martin Havlat later on, but their careers were closer to the "flash in the pan" variety than anything else. The first round was most known for Pavel Brendl, uber-hyped prospect who flamed out in epic fashion. There was also Kris Beech, centerpiece of the trade that sent Jaromir Jagr to the Washington Capitals that would play just 95 career games in Pittsburgh, picking up a whopping 10 goals and 27 points during that time. And don't even get me started on the fact that the New York Islanders had four first round draft picks and missed hard on all of them.
Sadly for everyone involved, this draft wasn't even known for its diamonds in the rough. Well, aside from two: goalie Ryan Miller, taken 138th overall by the Buffalo Sabres, and winger Henrik Zetterberg, taken by the Detroit Red Wings all the way at the end of the seventh round (210th overall). Sure, there were alright NHL players here and there, but so few players from the top of this draft to the bottom wound up having anything resembling an impact in the NHL.
When looking over the history of the NHL draft, a rich and storied on at that, you'd be hard-pressed to find a draft that disappointed as universally as this. For all the misses, there really wasn't much to be found. A few teams got lucky with their picks and the rest just found themselves in the land of the disappointed.
The 1999 NHL Draft will be remembered for a long time. Probably not for the right reasons, though.
Follow me on Twitter: @2PSBlog