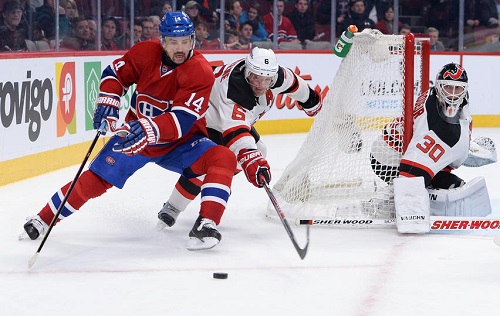 When looking at the Montreal Canadiens roster, some superstar names jump out right away. PK Subban and Carey Price are some of the best in their positions, while Brendan Gallagher and Alex Galchenyuk are both rising stars. But one name that often gets forgotten is Tomas Plekanec who this year, is making a strong case for Montreal's MVP.
Plekanec, now in his 10th season with the Habs, has taken on a more defensive role in recent years. Now that some younger forwards have emerged, he has been counted on to play tougher minutes that the less experienced players can't be counted on yet. Plekanec talked about his defensive role after the team beat the Chicago Blackhawks 2-1 in overtime on January 11.
"When we're good on defence, offence comes out of it," he said. "It think the main reason behind so many scoring chances last game is that we were so strong defensively."
Plekanec is tied for second on the team with 16 goals and 30 points, so offence is still a big part of his game. Even after being moved to the checking line with Brian Gionta and Travis Moen, he is finding a way to put up points. He is strong in the faceoff circle, winning 48.6 per cent this season. And when he wants the puck, he's hard to stop as Jonathan Toews and Brent Seabrook found out in this video.
Plekanec sees the most ice time of all Montreal forwards, averaging 19:28 minutes a game. He also sees the most penalty killing time, being on the ice for 49.6 per cent of all Montreal's shorthanded situations. That has led Montreal to be fourth in the league on the penalty kill, successfully killing 85.6 per cent of their chances. Overall, Habs goalies stop 94.6 per cent of the shots they face when Plekanec is on the ice, the best on the team. His play has made him the go to guy to matchup against other teams' stars.
"When you go on the ice against those guys you know that your job is to keep them as quiet as possible and try to get their focus on something else than scoring goals," Plekanec said. "That's been my job for quite a few years here — being a strong guy at both ends of the ice."
Montreal's record is now at 27-17-5, good for third in the Atlantic Division and Plekanec is a big part of that. While he won't be considered for Hart Trophy for league MVP, Head Coach Michel Therrien suggested that he could be up for the Selke Trophy.
"He should be a serious candidate for sure," Therrien said on January 13. "When we ask him to play against the other teams' top lines, he always does the job and he can contribute on offence too."
Next for Plekanec will be to captain Team Czech Republic at the Olympics. Then he will be back in Montreal to help lead them to the playoffs.