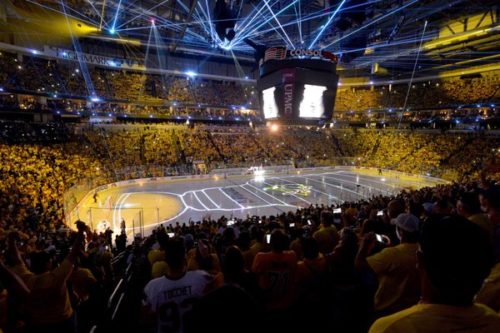 May has been both a busy and exciting month for the National Hockey League and its' teams who have competed in the 2016 Stanley Cup Playoffs. While the NHL is down to just two teams bidding for the Stanley Cup in this year's Finals, other clubs and players from around the league have still been entertaining us — as they take their personalities to social media.
Here are the Top 10 Social Media Posts from around the NHL for the month of May.
10.) ESPN and longtime hockey fan Linda Cohn did an awesome video special on 'the ageless' Jaromir Jagr of the Florida Panthers back in January, but the video resurfaced and gained popularity recently over social media.
The ageless Jaromir Jagr Video – via @ESPN https://t.co/c50N97Pfrl

— Darrell Romuld (@CTVDarrell) January 30, 2016
9.) NBC Sports had this cool photo tweeted out during the Eastern Conference Finals between the Tampa Bay Lightning and Pittsburgh Penguins.
Remember the first time the @penguins and @TBLightning faced off this season? Here's looking at you, Johnstown, PA! pic.twitter.com/Lm3YOGsZrD

— NHL on NBC (@NHLonNBCSports) May 11, 2016
8.) New Jersey Devils prospect John Quenneville scored a goal for the Brandon Wheat Kings that still hasn't gotten old yet, right?
This goal hasn't gotten old yet.

Cc: @Sportsnethttps://t.co/qOXWa57oWv

— New Jersey Devils (@NJDevils) May 23, 2016
7.) One day after Montreal Canadiens defenseman P.K. Subban was not selected to represent Team Canada in the World Cup Of Hockey 2016, Subban was still in good spirits and taking batting practice with Canada's own, Toronto Blue Jays.
Batter up ⚾️ @BlueJays @JoeyBats19 @BringerOfRain20 @DAVIDprice24 @MichaelRay26 pic.twitter.com/6DiyPU34ph

— P.K. Subban (@PKSubban1) May 28, 2016
6.) The NFL's San Francisco 49ers made sure to wish the Bay Area's hockey team well, as the San Jose Sharks advanced to their first every Stanley Cup Finals appearance.
Congrats to our friends at the @SanJoseSharks! Good luck in the #StanleyCup! 👏 #BayAreaUnite pic.twitter.com/G2o7f5S0NG

— San Francisco 49ers (@49ers) May 26, 2016
PODCAST: McKenna's NHL Podcast Stanley Cup Finals Edition
5.) NBC Sports anchor Kathryn Tappen was impressed with how the Pittsburgh Penguins designated an area for a pregame routine.
4.) Detroit Red Wings forward Gustav Nyquist wished a certain race horse his best earlier this month…
Good luck tomorrow @TheNyquistHorse!!! @PreaknessStakes @DougONeill1

— Gustav Nyquist (@GNyquist) May 20, 2016
3.) Head coach of the Tampa Bay Lightning Jon Cooper exemplified how cool Coach Coop can be, again.
You'll miss the mocking but we'll miss you. Someone hire this guy! Integrity, honest and cool to call a friend. pic.twitter.com/CHPN5oIjn6

— Jon Cooper (@CoopersLaw) May 4, 2016
2.) Pittsburgh Penguins offensive sniper Phil Kessel had an awkward, yet funny moment with NBC's Pierre McGuire during an interview. The Penguins made sure to follow up  on the situation with some humor of their own, too.
https://youtu.be/twfd6QAkb_c
For all that "bad breath"… pic.twitter.com/YDYfp7ABy1

— Pittsburgh Penguins (@penguins) May 20, 2016
1.) The number one spot belongs to none other then the King of Social Media for the NHL, Roberto Luongo.
It's gonna be tuff for me not 2 watch G7 Warriors/Thunder Monday night but I need to stay true to my true passion in life #TheBachelorette

— Strombone (@strombone1) May 29, 2016
Kyle McKenna covers the NHL for About.com Sports & Hooked On Hockey Magazine. He can be reached on Twitter (@KMcKenna_tLT5) or via email (mckenna.kyle91@gmail.com)
Love Reading About Hockey?

Subscribe to keep up-to-date with the latest and most interesting hockey news!
| | |
| --- | --- |
| | We hate spam just as much as you |