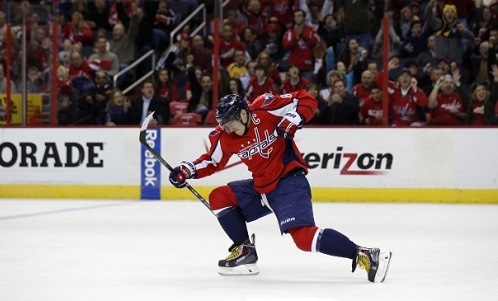 Although the Capitals had a far from stellar season in which they failed to make a postseason appearance, I took the liberty to reflect on some of the noteworthy goals in a top ten list below:
10) Alex Ovechkin- 400th goal against Carolina Hurricanes
It was one special empty netter for Ovechkin, his 400th goal making him the 6th fastest to do so, 88th player to do it. It was fitting the goal was assisted by partner in crime Nicklas Bäckström.
9) Mikhail Grabovski – Hat Trick Hero against Chicago Blackhawks
I KNOW I KNOW ITS BEST GOAL NOT BEST GOALS. I had to have these three goals on and I didn't want them to be separate. Grabovski was signed to replace Mike Ribeiro and with the hat trick in his first game, it looked like he was a steal.
8) Joel Ward – Makes it look easy against Carolina Hurricanes
Joel Ward quietly, or maybe not, stepped his game up this season. The 33 year-old set his NHL high in goals, assists, and points all the while making some goal look so easy. So I'm going to let it talk for itself
7) John Carlson – Seeing Eye Puck against Columbus Blue Jackets
John Carlson gets one of the luckiest goals in his career, a puck that was hell bent on hitting the twine. While the Capitals got smoked in the game, Carlson's goal is something to watch over and over.
6) Alex Ovechkin – 4 goal comeback against Tampa Bay Lightning
The Capitals found themselves in a hole down 3-0 late in the 1st period. A game where Mike Green had 18 penalty minutes in 9:18 played, Ovechkin scored 4, to lead the Capitals to a 6-5 SO win.
5) Joel Ward – Dirty Dangle against Boston Bruins
What is there to say, Joel is a grind it out guy and scored a fantastic grind it out goal. Again, I'll let it do the talking.
4) Alex Ovechkin- 50th on the year against St. Louis Blues
For the 5th time in his career Ovechkin scored 50 goals in a season, while he may not have celebrated it like his first, he sure as hell scored a nice goal. It also was his first ever in Scott Trade Center.
3) Alex Ovechkin – No Angler against San Jose Sharks
No angle no chance right? Wrong. Ovechkin shows here that he can score from just about anywhere.
2. Evgeny Kuznetsov- first NHL goal against Los Angeles Kings
This is as high at it is for the moment it came at and the sentimental meaning I have for it. The Capitals were fighting for their lives at the end of the season and needed points from every game. Not only did Kuzya get the Capitals a much need phantom point, but he scored his first NHL goal, which I've waited 3 years for, and was mobbed by fellow Russian Dmitry Orlov and almost dragged down by Alex Ovechkin. Also Joe B was pretty excited.
1. Alex Ovechkin- juggles and score against Montreal Canadiens
It really had to be number one on the list, I mean to juggle the puck and somehow find a way to get it past Price with no angle. The timing of the goal was also a big bonus, the Capitals weren't scoring and in the midst of a long slide right before the Olympic break. Ovechkin's goal sparked a 5-0 win when they really needed one.
So there you have it. Tell me if I missed one or if you think they are out of order in the comment section below.