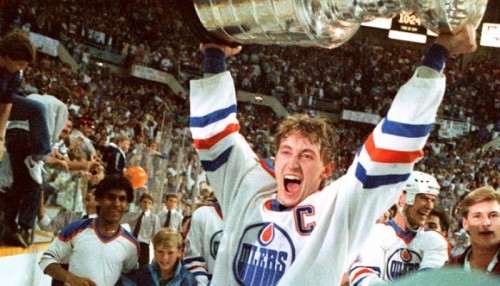 Although the Edmonton Oilers franchise has been the perennial bottom feeder for nine years now, the franchise has seen considerable success over their thirty-six year history in the NHL. With five Stanley Cups and seven Stanley Cup Final appearances, the Oilers boasted some of the best teams to ever take to the ice. Many of the NHL's elite enjoyed the most successful seasons of their career in Edmonton. However, these five stand out as the best to ever play for the Edmonton Oilers.
5. Glenn Anderson
Glenn Anderson played parts of 12 seasons with the Oilers, ranking 3rd all-time in goals with 417 and 4th in points with 906. He broke the 50 goal mark twice and 100 point mark three times as an Oiler, but what made Anderson truly great was the style in which he played the game. He would strike fear in goalies by driving the net with reckless abandon, often scoring highlight reel goals as a result. However, what people will remember most was how he would elevate his game in clutch moments, scoring many key game-winning goals for the Oilers and helping them win all five of their Stanley Cup championships.
4. Paul Coffey
Paul Coffey was one of the NHL's best offensive defensemen and best skaters of all time. Coffey was a fantastic fit for the high flying offensive game the Oilers played. He would back off defenders and dazzle fans with his fantastic speed. Paul Coffey holds the NHL records for most goals in one season by a defenseman with 48, and most goals, assists and points in the playoffs by a defenseman with 12, 25 and 37 respectively. He shares the Oiler record for most points in a game with 8. Though he only spent seven seasons with the Oilers, Coffey's abilities and numbers put together with three Stanley cups in Edmonton get him to number 4 on this list.
3. Jari Kurri
Jari Kurri spent the majority of his Oiler career as Wayne Gretzky's trigger-man forming one of the most dangerous duos in the NHL. Kurri will always be known as one of the best snipers of his era, scoring at least 50 in four straight seasons with a high mark of 71 goals in one season. He is 2nd all-time on the Oilers in goals and points with 474 and 1043. On top of his impressive offensive numbers, Kurri was regarded as one of the best defensive forwards in the league. To top it all off, Kurri was a member of all five Oilers championship winning teams.
2. Mark Messier
Born and raised just outside of Edmonton, "Moose" was one of the greatest leaders in hockey and was equally feared as he was skilled. Messier racked up 1034 points and 1122 PIM in his 851 games as a member of the Oilers. Drafted 48th overall in 1979, he became a vital piece to the Oilers dynasty through the 80's, winning a Hart trophy and a Conn Smythe trophy in his time there. Perhaps his biggest moment came, though, when he captained a Gretzky-less Oiler team to their fifth Stanley Cup in seven years.
1. Wayne Gretzky
Everyone knows that what Wayne Gretzky did for the game of hockey transcends his accomplishments as a player. However, the numerous records, stats and awards he owns are the reasons he is regarded as the best player to ever play the game. The Hall-of-Famer is the owner of a whopping 60 official NHL records and many more unofficial ones. The ones he set wearing blue and orange include: 215 points in one season, cracking the 200 point mark four times (the only player to ever break 200), reaching 50 goals in 39 games, and a 51 game point streak. With the Oilers he recorded 1669 regular season points in 696 games and 252 playoff points in 120 games, winning 8 Hart trophies, 7 Art Ross trophies, 2 Conn Smythe and 4 Stanley Cups. The Great One is without question, the greatest Oiler of all-time.
Honorable mentions:
Grant Fuhr – Boasting a total of 300 regular season and playoff wins as an Oiler, Grant Fuhr backstopped the Oilers to 4 Stanley Cups by being the clutch goaltender this high-octane team needed while deploying their run and gun style of play.
Ryan Smyth – For any fan born after the summer of 1990 (including me), you can't think of the Oilers without thinking about Ryan Smyth. He bled orange and blue and was the poster boy for blue collar Oiler teams that willed their way into the playoffs by sheer work ethic through the mid 90s to early 00s.
Love Reading About Hockey?

Subscribe to keep up-to-date with the latest and most interesting hockey news!
| | |
| --- | --- |
| | We hate spam just as much as you |