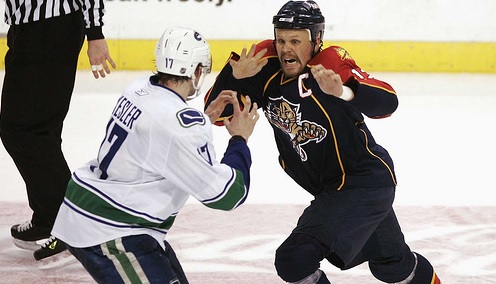 NO TIME TO DILLY-DALLY; RIGHT ON TO THE LIST, EH?
5. Radek Dvorak-RW, Tabor, Czech Republic
Everybody loves Radek Dvorak. I mean, come on. Dude played for eight teams over the course of his 1,260-game NHL career, and-to my imperfect knowledge, nobody's got a slight against the wide-man from the former Czechoslovakia. Drafted tenth overall by the Cats in the 1995 NHL Entry Draft, Dvorak carved his niche into the annals of Panthers' history, dressing for the club in over 48% of his career appearances. In spite of never eclipsing the 20-goal mark wearing a Panthers' sweater, Dvorak posted 268 points during his tenure in Sunrise, pacing the all-time roster in short-handed goals (16) and coming in at second and fifth in games played and shots on goal, respectively. The dude may not have been the flashiest of forwards, but character players of his breed and longevity are a bit of a rarity. Quality individual, that Radek.
4. Pavel Bure-RW, Moscow, Russia
He needs no introduction. Hell, he doesn't even need a paragraph. Brought to Sunrise in 1999 via a blockbuster deal that saw a total of nine players (seven current, two drafted) swap allegiances, Bure places in the Panthers' top-five across a swath of categories; third in goals (152), fourth in power play goals (44), third in short-handed goals (9), third in game-winning goals (23)-the Russian Rocket was offensive dynamite. Taking into account the fact that his Cats' career lasted only 223 games over the course of four seasons, and his feats of firepower are amplified in their scale. Just watch this. The trillest in the land.
3. Roberto Luongo-G, Montreal, Canada
Beezer might get the nostalgia, but Luongo has, continues to, and probably will keep on stonewalling the opposition for years down the road. The undisputed Panthers' leader in games played (331, and counting), wins (114, and growing) and shutouts (27-you get the gist), Bobby Lu was instrumental in this past campaign's extended run at a postseason berth, and the 6'3″ Olympian figures to stake his claim in the Panthers' crease until one of his aging knees pops in the butterfly and HOLY CRAP PLEASE DON'T LET THAT HAPPEN. Oh, and his Twitter game? Absolutely savage.
2. Scott Mellanby-RW, Montreal, Canada
Rats. PIMs. Bar fights. Scott Mellanby is, as the kids say nowadays, the GOAT. Or, at least, one of the approximately 43,904 individuals that I have tacked that title onto. The 27th overall selection of the Philadelphia Flyers in the 1984 Draft, this particular badass nearly lost his arm to amputation a mere three years into his career, got claimed by the Cats in the expansion draft of 1993 after being traded to the Edmonton Oilers, and still managed to leave his mark on eight-count 'em, EIGHT-of the ten categories listed in the Den of Honor's Career Records archives. Thanks for making the sky rain a hellish deluge of rodents, Mr. Mellanby. Thanks a bunch.
1. Olli Jokinen-C, Kuopio, Finland
Call me lazy, but I'm just going to leave this here. And this. And also this. In all seriousness, however, you'd be hard-pressed to not give the top spot to a player who captained his squad and placed in the top-five across a plethora of franchise-best lists (see: Games Played, Goals, Assists, Points, Goals Created, Even Strength Goals, Power Play Goals, Short-Handed Goals, Game Winning Goals, Shots, Hat Tricks, and a bunch of other advanced metrics that I shouldn't delve too deeply into because I'm typing this at my internship right now). *raises Guinness* TO OLLI GODDAMN JOKINEN, THE ONLY PANTHERS' PLAYER EVER, ACCORDING TO MY GOOD FRIEND, BRIAN.
HONORABLE MENTIONS ('cause this ain't bush league)
Viktor Kozlov
John Vanbiesbrouck
Brian Skrudland
Robert Svehla
Paul Laus