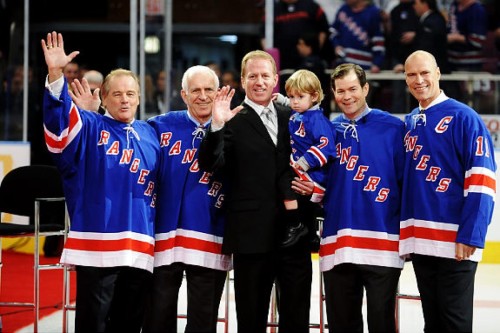 Established in 1926, as a part of the NHL's Original Six, the New York Rangers have quite a cherished timeline we can reflect on. "The Broadway Blue Shirts" have a past that bears four Stanley Cups, the end of a "curse" and most notably a list of historic players who have donned America's colors for "The City that never sleeps."
But, let's narrow down the Rangers' top players in franchise history — to five. Rangers that may come to mind immediately could be Adam Graves, Mike Ritcher or Ed Giacomin. Yet, they're not on our list, so find out who is.
Here are HOHM's top five players in New York Rangers' history.
5.) Ron Greschner, Defenseman
Some die-hard Rangers fans are still shocked Greschner's No. 4 hasn't been lifted to the rafters yet at Madison Square Garden. The defenseman played his entire career, 16 seasons, with the "Broadway Blue Shirts," and was just shy of playing in 1,000 games for the organization. The dynamic defenseman can be found in the team's top ten for categories such as most assists (431), points (610) and penalty minutes (1226).
From 1974-1990 New York also saw Greschner tally 179 goals. The 1980 NHL All-Star also had a memorable and career high year just two years before, where he recorded 24 goals and accumulated 72 points.
4.) Henrik Lundqvist, Goaltender
"The King," was drafted by New York in the seventh round of the 2000 NHL Entry Draft; yes hard to believe right? Once Lundqvist made the switch from the Swedish Professional League (SHL) to New York in the 2005-06 season he claimed his throne as King of New York from the get-go.
The Olympic Gold Medal winner leads all Ranger goalies in franchise history with regular season wins (339), shutouts (55), playoff wins (43) and is on pace this year to break Mike Ritcher's team record of most career regular season games played, with 666. Lundqvist even added a Vezina Trophy (League's best goalie) to his resume in 2012. It seems the only accomplishment the Swedish all-star hasn't accomplished is to bring a Stanley Cup back to Madison Square Garden.
Regardless, "Hank" will have his number lifted to rafters at MSG, next to Ritcher's No. 35, once he decides to retire from the position he's been so dominate at for the last decade in the NHL.
Next 3 Players In The List
Love Reading About Hockey?

Subscribe to keep up-to-date with the latest and most interesting hockey news!
| | |
| --- | --- |
| | We hate spam just as much as you |