Featured
Top 5 NHL Trade Bait Before the Upcoming Deadline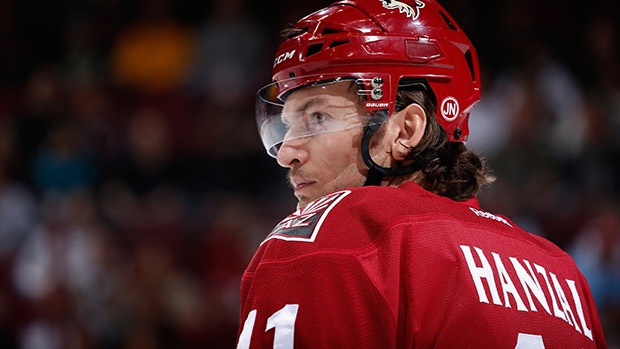 The NHL trade deadline peaked in 2010, when a flurry of 55 trades took place. Since then, the realities of the salary cap and the latest collective bargaining agreement have curtailed trade deadline activity. This resulted in only 14 trades during the 2016 deadline, much to the disappointment of NHL fans expecting big changes for their favorite team.
This year promises to be more dynamic, with a solid group of players available at all positions, shopped by contenders and tanking franchises alike. The hockey department at Canada Sports Betting considers the following NHL players to be among the best available at the trade deadline, with the ability to make a big difference wherever they land.
Kevin Shattenkirk
When the San Jose Sharks locked up Brent Burns with a massive eight-year contract extension for an estimated $64 million, Kevin Shattenkirk became the most prized defensemen who will be a UFA in 2017. In his contract year, he's responded with 33 points in 48 games for the St. Louis Blues, including 11 goals. As a 27-year-old, he'll fetch numbers similar to Burns on the free agent market, serving as a top two rearguard for any NHL teams he might join.
Firmly in the playoff picture with 53 points after 48 games, the Blues have a difficult decision, because they don't want to lose Shattenkirk for nothing. As of late, they've had goaltending problems, which is a hole they may attempt to fill via trade. If they swap for prospects, St. Louis management sends the message that a deep run this post-season isn't in the cards.
A possible destination would be the Tampa Bay Lightning, another team experiencing adverse circumstances. General manager Steve Yzerman might part with Ben Bishop to create one of the finest defensive corps in the league. The New York Rangers and the Toronto Maple Leafs have deep pools of young forward prospects, which would add much-needed wing depth for the Blues.
Jaroslav Halak
In the middle of a terrible year involving a three-way goaltending controversy, there's nothing that Halak and his agent would like more than a fresh start on another NHL club. He's only a couple of years off a 38-win, 6-shoutout season. Last year he was bit by the injury bug, appearing in only 36 games, which lead to Thomas Greiss stealing the spotlight from the Czechoslovakian netminder. Rubbing salt in the wound, Halak had to watch Greiss backstop the Isles to a playoff round win.
The Islanders don't feel like the same team this year, currently outside of the playoff bubble. The squad has received starting-level goaltending from Thomas Greiss when healthy; he's earned a .927 SV%, 2.31 GAA and two shutouts in 24 games this year. Compare this to Halak, who's dropped off with a .904 SV% and 3.23 GAA.
Halak's better than his current numbers show and should be able to solidify the crease for the right team. His career save percentage is .916 during the regular season and .924 in the playoffs. Given a chance, Halak's numbers will trend back to solid. One of the main objections could be his contract, which has one year left at $4.5 million. Still, general manager Garth Snow will seek an opportunity to unload Halak as soon as possible.
Matt Duchene
The Colorado Avalanche crashed and burned as a franchise after Patrick Roy steered a young squad to a surprising playoff appearance during the 2013-14 season. After a few questionable personnel decisions and some coaching controversy, the Avalanche missed the playoffs the next two years, ousting Roy as leader. This year, the Avalanche have the best chance of winning the draft lottery, descending once again to the bottom of the NHL.
Duchene was a big part of the surprise winning season, notching 70 points in 71 games. Over the past two years, his production has tailed off, resulting in a pair of seasons below 60 points. At the age of 26, he can still produce as a top-six on any squad in the NHL, and has two years left on his contract – albeit at a hefty $6 million cap hit.
The Avalanche need picks to accelerate the rebuild, and will center the process around Nathan MacKinnon. At this point, Colorado would prefer to snag a decent package for Duchene, including picks and a prospect.
Thomas Vanek
During a tough season in which the Detroit Red Wings' 25-year playoff streak appears to be in jeopardy, signing Vanek to a modest one-year contract has been one of the more pleasant surprises of the season. Fighting through injuries, Vanek has been one the most productive members of the Red Wings lineup, earning 31 points and 12 goals in 33 games. There's isn't an NHL team that wouldn't have signed Vanek if they expected this level of play, making him one of the most sought-after trade assets for teams loading up for a deep run in the playoffs.
Vanek will undoubtedly earn a big boost to his paycheck for the 2017-18 season, and the Red Wings will likely go into rebuild mode if they miss the post season. Detroit has a knack for discovering talent, which makes a picks and prospects package an attractive one for the Red Wings. During the run-up to the trade deadline, multiple teams have been linked to Vanek, although it appears that the Chicago Blackhawks have been mentioned most frequently among potential trade partners.
Martin Hanzal
The NHL hasn't really gotten a chance to see what talented center Martin Hanzal can do yet, because he's spent most of his career missing chunks of time with various injuries. He's been with the Arizona Coyotes since he broke into the league as a 20-year-old in 2007-08, posting a respectable 305 points and 111 goals in 596 games. He'll be an unrestricted free agent after the season ends, and numerous teams will be interested in signing him during the off-season.
Since the Coyotes are rebuilding once again, there's no reason to lose him for nothing to free agency. As a six-foot-six center who plays well at both ends of the rink, Hanzal would be a terrific pickup for any team aiming their sights on a Stanley Cup ring. The Montreal Canadiens apparently contacted the Coyotes about Hanzal, and teams like the Los Angeles Kings, San Jose Sharks and the Chicago Blackhawks would love to have another big presence down the middle. Look for Arizona management to score a decent return for this second line center.