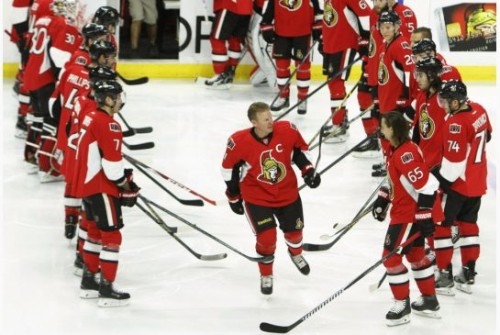 Having only been in existence for just over 20 years – the first five or so spent toiling in mediocrity – picking a "best of" for anything Senators-related is a tough task. With a team that is still in its infancy (relatively speaking), there isn't the overabundance of players to choose from as is the case with the Montreal Canadiens or Toronto Maple Leafs.
Still, even in their short history the Sens have been home to a number of talented players, many of whom cemented their legacy in Canada's capital. They may not have the same appeal of some of the league's greats, but here are the Sens' top five players of all time:
5. Chris Phillips
This was the toughest choice of all because, unlike the other four parts of the top five, nailing down the number five choice wasn't as clear-cut. Ultimately Phillips gets the nod because of longevity: he's the franchise's all-time leader in games played with 1,179, including a stretch of seven seasons (2006/07-2012/13) during which he missed only three games. It's tough to measure the contributions of a defensive defenceman the same as could be done for a forward, but regardless of metric, Phillips' presence as a sturdy, shutdown d-man has been vital to the Sens' success. The fact he lived up to the hype of being a first overall pick in the 1996 Entry Draft doesn't hurt, either.
4. Wade Redden
The sometimes-underrated Redden was to the Sens of the late '90s and much of the 2000s what Erik Karlsson is to the Sens of today, although not quite as dynamic or explosive offensively. As a 19-year-old in his rookie season he put up 30 points, and although his production dropped the following season it steadily increased afterward as he reached his prime years – peaking in 2005/06 with a 50-point season. If not for a contract dispute he likely would have stuck with Ottawa past the 2007/08 season, improving on his already impressive numbers: fourth in games (838), third in assists (309), fourth in points (410) and first in plus-minus (plus-159).
3. Erik Karlsson
Before anyone freaks out wondering how Karlsson (Ottawa's saviour?) could only be third, let's not forget the fact he is only 25 years old, is just hitting his prime and hasn't even reached the 400-game plateau yet. Despite being inexperienced, he had 45 points as a 20-year-old and followed that up the next season by winning the Norris Trophy with a 78-point campaign. Karlsson has said he still hasn't returned to his pre-Achilles-injury form, yet in the two seasons that followed he put up 74 and 66 points – the latter earning him a 2015 Norris nomination. He already ranks in the top 10 among Sens in such categories as assists and points, and it's only a matter of time before he gets into the top two or three.
2. Jason Spezza
His play in the defensive end – or lack thereof – grabbed much of the attention during his time in Ottawa, often at the expense of drawing attention to the positives in his game. As poor of a two-way centre as he was, his play in the offensive zone as a pure offensive talent was just as good, if not better. He displayed his skill set almost nightly, feathering passes through the tiniest of lanes or spinning defencemen around like they were on a carousel using some great stick handling. In all, by the time he was traded to the Dallas Stars he was a point-per-game player – putting up 687 points in 686 games – and ranked second in goals, assists and points behind only Daniel Alfredsson.
1. Daniel Alfredsson
Surprise, surprise, who else but Alfie? Not much could have been expected of the future great when he was drafted – he went in the sixth round, 133rd overall in 1994 – but soon showed the kind of diamond-in-the-rough talent he possessed. Alfredsson won the Calder Trophy in 1995-96, played 17 seasons for the Senators, was captain for 13 of those seasons and is the franchise leader in just about every category that matters: goals, assists, points, powerplay goals, shorthanded goals, game-winning-goals and shots. His playoff résumé is also impressive, putting up 100 points in 121 playoff games, including the overtime goal in 2007 against the Buffalo Sabres that sent Ottawa to the Stanley Cup Finals.
Honourable mentions: Dany Heatley (50 in '07…and '06) and Patrick Lalime (the franchise's best goalie to date, although Craig Anderson is making his way to the top).
Love Reading About Hockey?

Subscribe to keep up-to-date with the latest and most interesting hockey news!
| | |
| --- | --- |
| | We hate spam just as much as you |