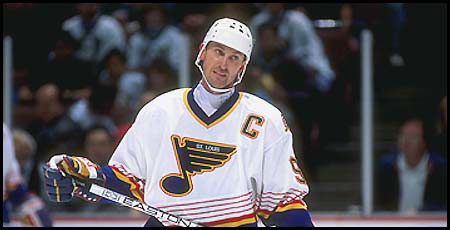 Unfortunately for young Blues fans they haven't bore witness to any magical – or even winning, for that matter – playoff series in the last 20 seasons. All they know is the feeling of angst after watching their team get bounced early or miss the playoffs altogether.
But if you're looking for some positives, fear not. They didn't win any Stanley Cups, but the Blues of the 70s and 80s sure gave their fans a lot to cheer about come playoff time. Here are the top six individual performances in Blues playoff history.
1. Brett Hull (1989/90)
Let's start with this: Picking just one playoffs series in which Hull was successful is a difficult task on its own. He could easily occupy three of these spots himself, having successful playoff runs in 1990/91 and 1992/93. But, of all of the playoffs he has been a part of, his 21 points in just 12 games from '89/90 take the cake.
2. Adam Oates (1990/91)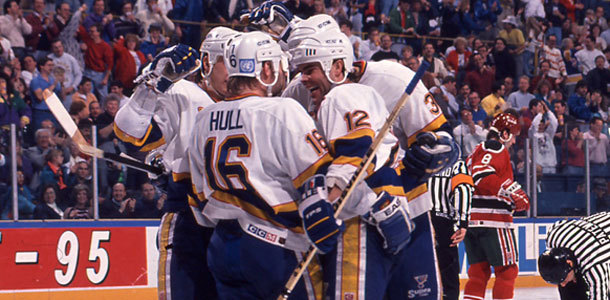 Like Hull, Oates also had multiple successful playoff stretches. That's largely due to their being line mates, which explains why Oates' 20 points in 13 games came during another one of Hull's great series. In second were his 14 points in the playoffs the previous year alongside Hull. That Hull and Oates (no, not Hall and Oates) combo would have been a headache for opposing defenses.
3. Doug Gilmour (1985/86)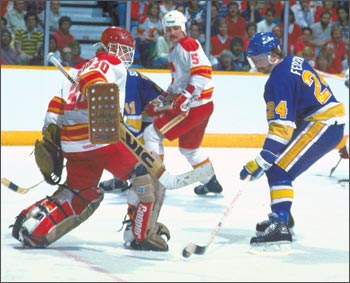 Gilmour made a big impression in just his third season with the NHL as he put up 21 points in 19 games during the '85/86 playoffs. Though he has one more point than Oates, Gilmour falls into the three spot because he accomplished that feat in seven more games than the previous two players. Although it was impressive that he was able to keep that success spread out over 19 games.
4. Bernie Federko (1985/86)
Let's keep this short and simple. Federko, like Gilmour, had 21 points in 19 games in '85/86, but his seven goals to Gilmour's nine dropped him into fourth.
5. Joe Mullen (1981/82)

Mullen wasn't like any of the four previously mentioned players: he only showed spurts of greatness. He had seven goals and 18 points in just 10 games, and on top of that it was just his second season in the NHL. Pretty impressive.
6. Wayne Gretzky (1995/96)
Probably the only time The Great One will ranks so low on a best-of list – of any sort – that's related to on-ice performance. He only had one seasons with the Blues, but he made the most of it – totaling 16 points in 13 games and scoring just just two goals.
Love Reading About Hockey?

Subscribe to keep up-to-date with the latest and most interesting hockey news!
| | |
| --- | --- |
| | We hate spam just as much as you |