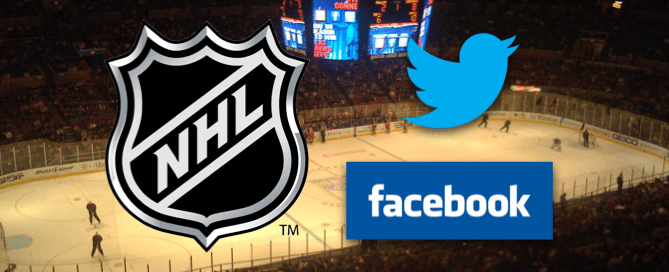 Is there ever really an offseason when it comes to analyzing the NHL and the league's top storylines during the summer season?
With that being said, Hooked on Hockey Magazine continued its monthly tradition for ranking the NHL's top social media posts for the month of July.
The Nashville Predators Twitter account didn't have to blink twice when it produced this headline for the re-signing of backup goaltender, Juuse Saros.
The Juice is loose!*

*in #Smashville for three more yearshttps://t.co/YV4CCVE48I

— Nashville Predators (@PredsNHL) July 16, 2018
Just when you thought the legendary NHL analyst Stan Fischler had retired, he still found a way to poke fun at some of the game's brightest stars. This time around, Montreal Canadiens goaltender Carey Price was somehow brought back into the conversation with his former teammate, Jaroslav Halak.
I'll miss #JaroHalak. Granted he didn't have a Vezina season but he always was available, win or lose. Somehow it didn't work between the pipes. Happens. Ask CareyPrince. Good luck in Beantown, old pal.

— Stan Fischler (@StanFischler) July 3, 2018
Where would the NHL be without the great, Bob McKenzie? The TSN reporter and hockey guru clarified the Star Wars "toy" that was in John Tavares' "Pajama Boy" photo that went viral over Twitter earlier in July.
Since you asked and you're a geek, it's a Star Wars alarm clock. He wanted it right above his head because he had an early tournament game the next morning and was afraid his parents' alarm might not work. So he doubled up with his own alarm clock. https://t.co/J5VaVz1Ucz

— Bob McKenzie (@TSNBobMcKenzie) July 1, 2018
Speaking of Tavares, his new teammate in Auston Matthews shared some appreciation for the former New York Islanders captain heading north of the border after No. 91 signed a seven-year contract with the Toronto Maple Leafs.
Welcome aboard @91Tavares ! Pumped to have you in the blue and white and now call you a teammate #goleafs

— Auston Matthews (@AM34) July 1, 2018
It's still hard to believe and picture, but the NBA's LeBron James is a Los Angeles Laker. Still, King James is second fiddle to the real King in Los Angeles and Bailey made sure James felt right at home from the get-go.
Dear @KingJames I am HAPPY to share the LA KINGDOM WITH YOU!!!! pic.twitter.com/Evdt2mUv3Z

— Bailey LA Kings (@BaileyLAKings) July 2, 2018
Forward Derek Stepan displayed that he clearly misses the spotlight that he received while playing for the New York Rangers on Broadway, but the former Wisconsin Badger and, now Arizona Coyote, proved that he didn't leave his personality behind in the city that never sleeps.
https://twitter.com/DerekStepan21/status/1013510871409184768
Double trouble for the Arizona Coyotes on this month's list; how lucky are the Yotes that they have a player that's willing to "not care" about money and stick it out in the desert with a team that's never won a Stanley Cup, let alone make an appearance in the Stanley Cup Final. Arizona should just retire Oliver Ekman-Larsson's number already, right?
I asked OEL if he left money on the table: "It's just money. It's not going to make you happier if you go somewhere else. My heart is in Arizona."

— Craig Morgan (@CraigSMorgan) July 1, 2018
NHL fans alike should have known that this hockey jersey enthusiast wasn't going to let this one slide by HOHM…Sportsnet could have at least put hockey tape over Reebok's logo.
@UniWatch The John Tavares Leafs jersey on Sportsnet's Tim & Sid show is an old Reebok jersey with the logo blued out. pic.twitter.com/aMeW67cbGV

— Kevin Wilson (@myshuffledlife) July 3, 2018
<Top tweet>The Fourth Period's, David Pagnotta, proved just how code-savvy he can be with his Erik Karlsson and Golden State Warriors joke. </Top-tweet>
There have been contract discussions with Karlsson and some of the teams interested in acquiring him.

<joke> No, the Golden State Warriors are not in the mix. </joke>

— David Pagnotta (@TheFourthPeriod) July 3, 2018
It's doubtful that Florida will ever have three NHL teams, but Eddie Cash's humor made it to the list. Congrats, Eddie — see you in Jacksonville.
https://twitter.com/Edward_Cash/status/1015099877418848256
While it can't be confirmed, this may have been the original "Pajama Boy" joke that was poked at John Tavares. Either way, Krista deserves credit for this tweet and photo. Well done, well done…
Hey Toronto, you spelled Tavares wrong. Don't worry, we fixed it for you. #isles #islestwitter #pajamaboy pic.twitter.com/6B2HkBY4qb

— Kristabyte 🎮💜 (@Kristabyte) July 5, 2018
Now, this is cool. While the Carolina Hurricanes have plenty of "players to be named later" awaiting to don a 'Canes jersey, Carolina and the Durham Bulls teamed up for this awesome Hockey Night promotion at Durham.
The @DurhamBulls will wear @NHLCanes-inspired jerseys for Hockey Night later this season. See the story here: https://t.co/6H3XPZVHs3 pic.twitter.com/3C2e73noUZ

— Chris Creamer (@sportslogosnet) July 10, 2018
Who didn't think of Pittsburgh Penguins forward and hot dog enthusiast, Phil Kessel, on National Hot Dog Day?
https://www.facebook.com/NHLonNBCSports/photos/a.591282954225319.1073741830.149780065042279/1961671223853145/?type=3&theater
The chances are that forward Patrick Maroon probably didn't want to get chirped every single night at the rink for wearing No. 5 with his new team the St. Louis Blues, right?
Maroon 5 wasn't possible since #5 is retired, but Maroon 7 will do just fine. #stlblues pic.twitter.com/mV2WTiswEn

— St. Louis Blues (@StLouisBlues) July 11, 2018
Well, now, this was just impressive…
https://www.instagram.com/p/BlTfrSvnbwm/?hl=en&taken-by=nhl/embed
Jermy Roenick showed some support for Washington Capitals forward, Alex Ovechkin. The 2018 Stanley Cup champion took home some impressive hardware from this year's ESPY Awards.
Congrats to Alex Ovechkin on becoming the first @NHL player to win "Best Male Athlete" at the ESPY's. He is so deserving of this award!! #SummerOfOvi

— Jeremy Roenick (@Jeremy_Roenick) July 19, 2018
The Legend of Bark-Andre Furry continued when the pup-icon was spotted at the 2018 World Cup in Russia.
#WorldCupRussia2018 #WorldCupFinal 🇫🇷 v 🇭🇷 Who wins the #WorldCup pic.twitter.com/rP00AqzAaw

— Bark-André (@BarkAndreFurry) July 15, 2018
Sorry New Jersey, but it's over.
Forward Adam Henrique signed a contract extension with the Anaheim Ducks, which meant that he won't be returning to the Devils next summer (originally a 2019 UFA).
Always been a dream to play for the @anaheimducks and I'm excited to be staying for years to come! Thank you to everyone who has supported me on my journey thus far. Excited for many more great memories! @Topshelf_TSSM @Thorts19
PS. Had to draw in @shenrique1418 pic.twitter.com/0STKnqTu1q

— Adam Henrique (@AdamHenrique) July 16, 2018
Philadelphia Flyers forward Wayne Simmonds posted this photo with some fellow hockey brothers, which also included the late Ray Emery.
See Ray Emery's Greatest NHL Moments Here
— Wayne Simmonds (@Simmonds17) July 16, 2018
Boston Bruins goaltender Tuukka Rask and Beantown will always seem to have beef with one another, and this clever tweet from Tristen Eicher backs that up.
https://twitter.com/TristenEicher/status/1019021137869770752
Kevin Weeks and Dan Carcillo tribute, Ray Emery.
One of us few.
Gone too soon.
Rest In Peace Rayzor.
🙏🏾 pic.twitter.com/GLM5waSaxe

— Kevin Weekes (@KevinWeekes) July 16, 2018
This picture was from the day after my wedding. We were on a cruise. We spent the whole time downstairs with my brothers, Paul & Steve & Riley Cote, just talking, drinking, laughing & smiling. There r very few ppl in this world that you long to be around. Ray was one of those ppl pic.twitter.com/aCZbLQRAOf

— Daniel Carcillo (@CarBombBoom13) July 17, 2018
The San Jose Sharks arguably have one of the top social media posts for 2018 with this Aquaman poster that stars, Brent Burns.
Kind of digging the new Aquaman poster. pic.twitter.com/bKMmHcu4qn

— San Jose Sharks (@SanJoseSharks) July 19, 2018
Roberto Luongo had been quiet for a couple of months on Twitter, but the goaltender made a nice return with his corny family humor over.
Me to my wife: Babe when I come to Montreal I get recognized a lot

Family walking towards me with big smile: Excuse me can you take a picture?

Me puffing out my chest a little: See babe I told you pic.twitter.com/6nUfIoLrq4

— Strombone (@strombone1) July 19, 2018
Tweet your NHL related questions to @KMcKenna_tLT5 to have them answered & be sure to use the hashtag #McKennasDigest
Kyle McKenna covers the NHL for Hooked On Hockey Magazine. He can be reached on Twitter (@KMcKenna_tLT5)