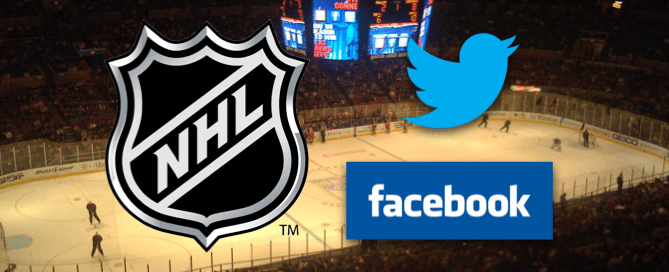 The month of June almost had too much excitement take place from the NHL fan's perspective. Alex Ovechkin and the Washington Capitals not only reached the 2018 Stanley Cup Final but defeated the expansion Vegas Golden Knights in convincing fashion.   The outcome left us all with entertaining videos of Ovechkin and company out celebrating all over the United States with Lord Stanley.
The NHL Entry Draft just took place in Dallas and you can be sure there are few good social media posts from that event, too. Analysts, celebrities and NHL players all took to Twitter to get in on the action for Hooked on Hockey' Magazine's top social media posts, so here are the posts from the month of June.
Alex Ovechkin proved that he'll most likely end up on a future season of ABC's Dancing with the Stars once he is retired from playing in the NHL.
Alex Ovechkin doesn't need a float for the Capitals parade. He's been floating on Cloud Nine since he won the Cup. pic.twitter.com/bVJ7K3bqYW

— Brad Galli (@BradGalli) June 12, 2018
The NHL's MVP in New Jersey Devils forward Taylor Hall didn't hesitate to score with his best 1980's Kevin Bacon impression at the NHL Awards Show in Las Vegas.
Everybody cut Footloose. #PuckFlix pic.twitter.com/xt9i1RJy6G

— New Jersey Devils (@NJDevils) June 21, 2018
The future is now in the city of Buffalo. This Sabres' creative highlight video will give you more goosebumps than the Bills clinching a playoff berth on the final day of the regular season…well, maybe not, but there's a lot to be excited about with Buffalo's 2018 No. 1 overall selection in Rasmus Dahlin.
Premiering this fall at a rink near you…
 
Rasmus Dahlin. pic.twitter.com/NPvVWQX6EY

— Buffalo Sabres (@BuffaloSabres) June 23, 2018
History shows that Ottawa Senators 2018 first-round draft pick (fourth overall), Brady Tkachuk, has always been a natural goal-scorer at the rinks — no matter the city. Yes, that is Keith Tkachuk's youngest son back in 2013.
Brady Tkachuk's first Instagram post (2013) 😂 #Sens pic.twitter.com/Bxz9WQBJ3p

— Sens Prospects (@SensProspects) June 23, 2018
Former NHLer and fan favorite, Bill Guerin reminded us that he still has a sense of humor and is more than likely an all-star foodie, too.
With the Penguins' non-existent 1st round pick, Assistant GM Bill Guerin would like to select a salami and cheese sandwich. pic.twitter.com/RcIZYhVzWr

— Pittsburgh Penguins (@penguins) June 23, 2018
It was a pleasant surprise to see that celebrity-model Chrissy Teigen was not only tuning into the Stanley Cup Playoffs, but she also thinks she would be a keeper between the pipes too.
I feel like can absolutely be a hockey goalie

— christine teigen (@chrissyteigen) June 3, 2018
It only gets better…
Just talked to our GM and he wants you to come tryout. You in?

— LA Kings (@LAKings) June 3, 2018
I ran some numbers and if you lay on your side and lift your top leg up and down the entire game, you stop 99.9% of attempted goals. The rest is up to defense.

— christine teigen (@chrissyteigen) June 3, 2018
I ran some numbers and if you lay on your side in an exotic location you look hot. The rest is up to the photographer. https://t.co/5cJhe3S3oW

— Ryan Miller (@RyanMiller3039) June 7, 2018
Yes, goaltender Ryan Miller still has some game left in him.
I feel like I can absolutely be a super model https://t.co/tGLpgW9pxd

— Ryan Miller (@RyanMiller3039) June 7, 2018
Ovi celebrating with the Stanley Cup is never going to get old. Yet, the Capitals may have a nice hangover to start next season. Ovechkin kegstand out of the Stanely Cup — done deal.
Oh my god Alex Ovechkin was doing keg stands out of the Stanley Cup in the middle of Georgetown after throwing out the first pitch at a Nationals game and then ended up swimming half-naked in a fountain and I never thought i'd say this but this was all worth the 44-year wait 😂 pic.twitter.com/WZ5Bfh2aEM

— Rachel Nichols (@Rachel__Nichols) June 10, 2018
The NWHL's Rebecca Russo posted this awesome photo of her and former teammate Tom Wilson (Washington Capitals) crowned champions as professional hockey players almost two decades after the two won what appeared to be a street hockey title.
16 years ago we were teammates… and now we're both champions! Congrats @tom_wilso! #NHL #NWHL pic.twitter.com/NEHs9fhRQa

— Rebecca Russo (@russooo18) June 8, 2018
An Alex Ovechkin Stanley Cup flipbook — now that's legit.
The moment he waited 13 years for: @ovi8 celebrates the @Capitals #StanleyCup victory in flipbook-form! 👇

Created by @TheFlippist. pic.twitter.com/gXx8DDA3qD

— NHL (@NHL) June 10, 2018
Sports Logos' Chris Creamer gave hockey fans a quick history lesson on the Stanley Cup.
Every #StanleyCup champion in the #NHL era (1918-2018) shown hoisting the cup in the uniform they wore in the cup clinching game, updated to include the 2018 Washington Capitals #ALLCAPS

See it in full resolution here: https://t.co/bWO5IXx0zz pic.twitter.com/NuTz66qzd8

— Chris Screamer 🎃 (@sportslogosnet) June 8, 2018
NBC's Kathryn Tappen should have known this was coming with Lou Lamoriello now running the show for the New York Islanders, right?
Well… that's one way to steal the headlines during one of the greatest Cup Final series we've seen in recent years! #InLouWeTrust https://t.co/dtNMoabsSH

— Kathryn Tappen (@KathrynTappen) June 5, 2018
At last, P.K. Subban made it onto the cover of EA Sports NHL 19.
The New York Mets are in need of an upgrade at various positions and may want to consider negotiating a contract with the NHL Network's Jackie Redmond, after she displayed her potential baseball skills.
Tattoos, anyone? The Capitals partied in Washington D.C. as if they were still in Sin City.
A church located in D.C. and the NHL Network's Jamie Hersch are awfully clever.
Sign outside DC church. Does that mean they also forgive the Caps for dropping Game 1? pic.twitter.com/aX020yAFDz

— Jamie Hersch (@JamieHersch) June 1, 2018
Fan-favorite and Vegas' Bark-Andre soon learned that he was the underdog heading into the Stanley Cup Final against Ovie the Bulldog and company.
This is @OvietheBulldog and he's pumped for Game 3 pic.twitter.com/3pkWTkU72s

— Pierre LeBrun (@PierreVLeBrun) June 1, 2018
Nothing beats bagels from the Northeast and from New York…at least the New York Islanders think so.
@91Tavares John, i own a bagel store. The best bagels in New York. If you stay with us I will personally deliver bagels to you and your wife fresh every morning for the rest of your or my life. We love you John. Please, stay here where u were born and get us a cup.

— Donald Rosner (@donaldrosner) June 24, 2018
Hockey fans are probably all happy to not only see Capitals forward T.J. Oshie win the Stanely Cup, but to be able to do so with his father too.
T.J. Oshie got to lift the Stanley Cup with his dad, who has Alzheimer's. What a moment. pic.twitter.com/BxEeASlMot

— Amalie Benjamin (@AmalieBenjamin) June 8, 2018
I mean, now this is too funny. Martin Brodeur was not only informed that he'll be entering the Hockey Hall of Fame in November, but there's a fair argument here from NHL writer Greg Wyshnyski.
I mean, I'm just sayin' … #MartyIsGod pic.twitter.com/u8yLgo9c4J

— Greg Wyshynski (@wyshynski) June 13, 2018
And, finally, this one couldn't be left out. Ovechkin hoisting Lord Stanley for the first time, but will it be the last time for the Russian superstar?
Finally. pic.twitter.com/C0vki57YoP

— NHL on NBC (@NHLonNBCSports) June 8, 2018
Tweet your NHL related questions to @KMcKenna_tLT5  to have them answered & be sure to use the hashtag #McKennasDigest
Kyle McKenna covers the NHL for Hooked On Hockey Magazine. He can be reached on Twitter (@KMcKenna_tLT5) 
Love Reading About Hockey?

Subscribe to keep up-to-date with the latest and most interesting hockey news!
| | |
| --- | --- |
| | We hate spam just as much as you |