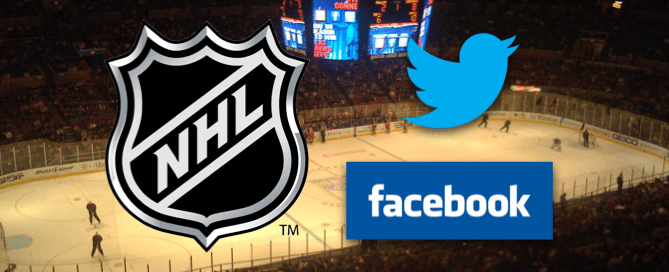 The NHL is just about one month deep into the 2018-19 campaign, and it's time to react and drop the puck on the league's top social media posts for October.
NBC Sports Analyst and former NHL superstar Jeremy Roenick made the cut, after the former (then) Phoenix Coyote proved that he's in full support of the (now) Arizona Coyotes rocking the 1990's vintage sweaters as an alternate this season.
These sweaters should have never left the ice…
The wait is over… HOCKEY IS BACK!! Excited to drop the puck on @arizonacoyotes opening night. Can't wait to see these classic Kachina jerseys in action again! #Yotes @NHL pic.twitter.com/JPhzsR3060

— Jeremy Roenick (@Jeremy_Roenick) October 2, 2018
While it seems that the New York Rangers find a way every season to celebrate the 1993-1994 Stanley Cup championship squad, kudos the New York Rangers Pup — Broadway's newest celebrity.
I can't wait to celebrate the 25th Anniversary of the 1993-94 Championship @NYRangers team on February 8th! pic.twitter.com/PhKd2yill6

— Ranger (@NYRangersPup) October 2, 2018
Yes, Pierre LeBrun, apparently lost a bet; however, Eagles' Midnight Green suits the TSN analyst well. Perhaps the Seattle expansion team is taking notes in order to establish its brand, too?
Worst day ever pic.twitter.com/cgAsTka0Ju

— Pierre LeBrun (@PierreVLeBrun) October 11, 2018
It's another pup-post, and why not? Kerry Peters more than likely made ESPN's John Buccigross chuckle after this tweet.
Hey @Buccigross look, it's Poochiegross. pic.twitter.com/6pGsLWrPmn

— Kerry Peters (@igobykp) October 13, 2018
Florida's notorious plastic rats made it all the way overseas for the NHL's Global Series.
While the New Jersey Devils were arguably getting ahead of themselves after the team's 4-0-0 start to the season, the current struggling squad still makes the starting lineup for October's top NHL social media posts.
Siri, who is the only undefeated team in the @NHL right now? #NowWeRise pic.twitter.com/Ozb2js6kqB

— New Jersey Devils (@NJDevils) October 14, 2018
TSN's Bob McKenzie wasted no time providing cannabis humor over Twitter, after the substance was officially legalized in Canada.
High 🐴. Everyone with the cannabis talk today. 🌿

— Bob McKenzie (@TSNBobMcKenzie) October 17, 2018
Finally.
The Anaheim Ducks officially retired Paul Kariya's No. 9 to the rafters at the Honda Center — the ol' Pond.
There's not a dry eye in the house.#RetireThe9: ✔ pic.twitter.com/U6EEfYCANY

— Anaheim Ducks (@AnaheimDucks) October 21, 2018
The NHL complied some memorable and must-see highlights from October over Instagram.
Now, this is cool.
Devils fans cooked up an awesome pizza while using pepperoni and mushroom toppings to replicate New Jersey's logo on the pie. Yet, the best part may be that they used "little-peps."
Rookie #NJDevils members Daniel and Rachele C. have been so fired up for this Devils season that they made a special pizza on Friday in honor of it for their weekly pizza making tradition. Their two little Devils, Jules and Caswell, loved it too! #DevilsMembership pic.twitter.com/e6KNoBBxfE

— New Jersey Devils (@NJDevils) October 21, 2018
There are no words needed for this video and top social post, which will also be in the running for the top NHL social media posts for 2018.
The concentration. The catch. 🙌 pic.twitter.com/0ZrzfGBMkz

— Sharks on NBCS (@NBCSSharks) October 21, 2018
Tweet your NHL related questions to @KMcKenna_tLT5  to have them answered & be sure to use the hashtag #McKennasDigest
Kyle McKenna covers the NHL for Hooked On Hockey Magazine. He can be reached on Twitter (@KMcKenna_tLT5) 
Love Reading About Hockey?

Subscribe to keep up-to-date with the latest and most interesting hockey news!
| | |
| --- | --- |
| | We hate spam just as much as you |