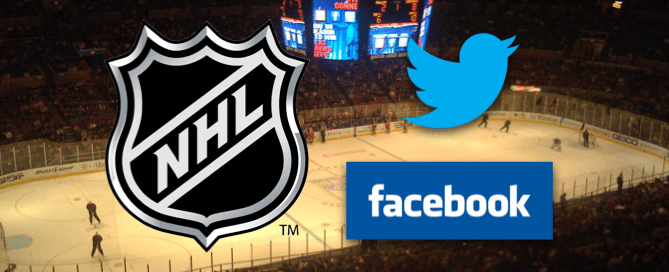 Fans can stop tweeting away with the "is it October yet" posts, with Oct. 1 just one day away.
The NHL is officially back, and the hockey world awaits memorable social media posts for the upcoming season. However, HOHM lists the top NHL social media posts from Sept. 2018.
I think everyone is on the same page as Florida Panthers goaltender and Twitter extraordinaire, Roberto Luongo. Though, the 39-year-old may have opened up a can of warms for when he starts between the pipes, or not, when the Panthers visit Philadelphia twice this season.
Expect the Flyers' new…"mascot," Gritty, to haunt Luongo all night in South Philly.
Did not sleep for one second last night cuz….. pic.twitter.com/TBRud6zaId

— Strombone (@strombone1) September 25, 2018
Pierre LeBrun whipped out a classic Matthew McConaughey quote.
ALRIGHT ALRIGHT ALRIGHT https://t.co/4fMB96v2Gt

— Pierre LeBrun (@PierreVLeBrun) September 6, 2018
While fans have mixed reactions about the Carolina Hurricanes wearing the vintage Hartford Whalers jerseys twice this season, the sweater is worth of the making the cut for this post.
https://www.instagram.com/p/BoPTkJCFH18/?hl=en&taken-by=nhl
Hockey Hall of Famer, Larry Robinson, proved that his Twitter game is stronger than you think after he congratulated Brian Gionta on a commendable NHL career.
Congrats on a great career #Brian @Giostyle21. Enjoy your #retirement! The game will miss you. It was a pleasure to be your #coach. @NJDevils @CanadiensMTL @BuffaloSabres

— Larry Robinson (@19LarryRobinson) September 24, 2018
Doug Norris came through in the clutch with this awesome throwback photo. That's four-time Stanley Cup champion, Billy Smith, in case you're wondering.
Goodbye, summer… pic.twitter.com/sQsw10U2AU

— Doug Norris (@GoalieHistory) September 25, 2018
Sports Illustrated arguably has the "chirp of the year" with this recent post directed at Los Angeles Dodgers' Justin Turner.
https://twitter.com/redturn2/status/1044298120723554306
The San Jose Sharks are usually good for at least one social media post on this monthly list. Perhaps this young fan also inspired the Sharks to consider having a Sharks onesie promotional night?
Bay-bee shark doo doo doo 🦈 pic.twitter.com/R6SO4yDSb0

— San Jose Sharks (@SanJoseSharks) September 23, 2018
The Arizona Coyotes proved that they're surprisingly confident entering 2019, especially considering that the team hasn't clinched a berth in the Stanley Cup Playoffs since 2012.
Isn't it obvious?

Kachina. 🔥 https://t.co/IDgK4i3Qwt

— Arizona Coyotes (@ArizonaCoyotes) September 22, 2018
Clever, Jackie, Clever…
What was your response to the NHL Network's Jackie Redmond's fun tweet?
If you could give YOUR NHL team a magic 8-ball prediction for this season, what would it be?? (Aka: Outlook good, Very doubtful, It is decidedly so that the X will win their division) Ok have fun with it, and go !

— Jackie Redmond (@Jackie_Redmond) September 21, 2018
The Buffalo Sabres posted a cool video on the team's former goaltender, Martin Biron, sharing his stories about his professional goaltender masks over the years.
There's a story behind every mask… @martybiron43 tells you his. #GoalieMaskSeason pic.twitter.com/WmbZPnUUd0

— Buffalo Sabres (@BuffaloSabres) September 20, 2018
The Columbus Blue Jackets wasted no time taking full advantage in promoting the rebirth of their "fresh" alternate sweaters for the upcoming season.
Fresh jersey. Fresh wallpapers.#CBJ pic.twitter.com/Z6M7he8VYu

— Columbus Blue Jackets (@BlueJacketsNHL) September 17, 2018
Even Ottawa Senators fans probably won't deny that they got a good laugh out of this post. This tweet may be up for one of the top tweets for 2018.
NHL: so we're thinking of doing another lockout.

Most fans: don't you fucking dare.

Sens fans: *googling 'can a lockout last more than one year'*

— Beata (@CBeataE) September 16, 2018
Anaheim Ducks forward Adam Henrique always seems to be having fun, and whether or not he's out on the ice or out on the baseball diamond.
Hi, Im Adam Henrique and Back Home they Call me Uncle Rico, and I hit Dingers! #BigALIsALegend. Thanks for having us @Angels! pic.twitter.com/0iAVQur9lY

— Adam Henrique (@AdamHenrique) September 17, 2018
The Vegas Golden Knights fan-base proved that it has just as much as humor as the team's social media accounts, after fans showed full support for Vegas' newest player — Max Pacioretty.
https://www.instagram.com/p/BnzniUkFEvn/?utm_source=ig_share_sheet&igshid=1pppvd00h010k
Let's see if Alex Ovechkin can entertain all, and thoroughly annoy Sidney Crosby, come June 2019…
On first day of Caps camp last season, Alex Ovechkin boldly stated, "We're not going to be suck."

His message at the start of camp this season:
"Not suck back to back."

— Tom Gulitti (@TomGulittiNHL) September 14, 2018
Anaheim Ducks goaltender John Gibson will take to the ice at the pond with this sweet retro mask when the Ducks don their new alternate jerseys this season.
The Mighty Ducks are alive and well here in the late 2010s, just check out the new 25th anniversary mask design for #Ducks goaltender John Gibson

More pics, details in the post: https://t.co/PVml0NC14z pic.twitter.com/th0C3dBDqU

— Chris Creamer (@sportslogosnet) September 12, 2018
Newly acquired San Jose Sharks defenseman, Erik Karlsson, sent out a fair well tweet to Ottawa.
Thank you Ottawa for making this my home. All my love to the fans, community and former teammates. You will be dearly missed. On to the next chapter now. Shark nation I'm coming for you. 🦈

— Erik Karlsson (@ErikKarlsson65) September 14, 2018
This photo doesn't do justice, but Pierre LeBrun finally met Bark-Andre Fleury…we mean "Furry."
Just met @BarkAndreFurry ! pic.twitter.com/vfGCkItjfI

— Pierre LeBrun (@PierreVLeBrun) September 14, 2018
The Colorado Avalanche reminded fans that October was closer than you thought with this cool Milan Hejduk post.
23 DAYS.#IsItOctoberYet!? #GoAvsGo pic.twitter.com/c7VnNOrERU

— Colorado Avalanche (@Avalanche) September 12, 2018
While fans just witnessed what Anaheim Ducks goaltender John Gibson's "Mighty Duck" mask will look like, here's his primary mask for 2018-19.
John Gibson (@johngibson35) unveils beautiful new mask for the @AnaheimDucks' 25th anniversary. MORE @ https://t.co/UH6qAh4ZNW pic.twitter.com/g3PiiX9wdK

— BarDown (@BarDown) September 11, 2018
The Detroit Red Wings won't have much to cheer for this season, but at least the team's twitter game is strong, right?
Veleno. 🍎
Zadina. 🍎
Rasmussen. 🚨

4-0, #RedWings. 8:20 of the 3rd! #DRWPT #LGRW

— Detroit Red Wings (@DetroitRedWings) September 10, 2018
NHL dot com's Dan Rosen must be proud after he received this classic quote from the Pittsburgh Penguins' Evgeni Malkin.
Are the Penguins bitter about the Capitals winning the Stanley Cup? Well, here's Evgeni Malkin talking about it: "We need it back. It's like, who wins? Washington wins. The most hated team in Pittsburgh. Of course we want it back."

— Dan Rosen (@drosennhl) September 6, 2018
Andrew Hammond won't only look to turn heads with the Minnesota Wild with his play between the pipes in 2019, but his mask for this season will be truly appreciated by the State of Hockey.
Really happy with how my new mask turned out from @JBartziokas #PaulBunyan #Hamburglar pic.twitter.com/CjBb6G3wfe

— Andrew Hammond (@andrewhammond30) September 8, 2018
Tweet your NHL related questions to @KMcKenna_tLT5 to have them answered & be sure to use the hashtag #McKennasDigest
Kyle McKenna covers the NHL for Hooked On Hockey Magazine. He can be reached on Twitter (@KMcKenna_tLT5)