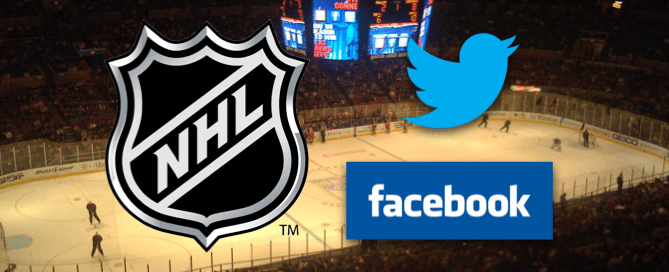 April is always a busy and exciting time of the year in professional sports, but especially in the NHL. The hunt for the Stanley Cup Playoffs ends during the first week of the month, which also leaves some fan bases celebrating and others mourning over a missed opportunity. Still, the double-edged sword leaves an opportunity for teams, analysts, players and more to entertain over social media.
Below are the top 15 NHL social media posts from the month of April.
15.) One day prior to the start of the 2018 Stanley Cup Playoffs, the NHL on NBC Twitter account promoted Nashville's Stanley Cup Playoff tradition of throwing a (non-living) catfish onto the ice during the pregame at Bridgestone Arena in the Music City. Yes, that's Predators' defenseman P.K. Subban.
We'll take one catfish please, @PKSubban1!#StanleyCup pic.twitter.com/l4X3PnASl8

— NHL on NBC (@NHLonNBCSports) April 10, 2018
14.) Remember former NHL goaltender, Ilya Bryzgalov?
Right, how could we forget the Universe's most interesting man to arguably ever strap on the pads. After the City of Brotherly Love suffered a tough Game 1 shutout loss (7-0) to the Pittsburgh Penguins in Round One of the playoffs, the former Philadelphia Flyers goaltender trolled Flyers Nation. Bryz, was primarily poking fun at Flyers goaltender, Brian Elliott, who was pulled after allowing five goals on 19 shots during the contest.
Bryz, now you decide to speak up and take shots at Philadelphia?
I'm ready whenever you are @NHLFlyers pic.twitter.com/YsMrslgB3T

— bryzgoalie30 (@bryzgoalie30) April 12, 2018
13.) The Winnipeg Jets proved that the city and organization arguably have the greatest white out theme for any big sporting events, and Winnipeg continued its hashtag #WPGWhiteout with this awesome photo prior to Game 3 of the Western Conference's First Round vs. the Minnesota Wild.
The #WPGWhiteout is alive in Minnesota. #WPGvsMIN pic.twitter.com/jgVWErBzy9

— Winnipeg Jets (@NHLJets) April 15, 2018
12.) This still made the cut — even though it was from March. Dallas Stars backup goaltender, Mike McKenna, showed some appreciation for a young Stars fan. McKenna flipped a puck over the glass to the fan during the pregame vs. the Philadelphia Flyers in late March. Look how far a good chips and salsa recipe can take you.
A puck for a salsa recipe is always a good trade 🍅🌶 https://t.co/2PSSHIFpJB

— Mike McKenna (@MikeMcKenna56) March 28, 2018
Thanks @MikeMcKenna56 for the puck. I will get you that recipe after the game. pic.twitter.com/ifjEL11CsI

— Austin Tong (@AustinTong14) March 28, 2018
11.) Vegas born, Seriously, though.
10.) The NHL Network's Jamie Hersch gets in on the action with her emojis for all of Round One's matchups. Even New Jersey Devils goaltender,  and Emoji Communications Extraordinaire, Keith Kinkaid, officially approved of this message.
Presenting the 2018 Stanley Cup Playoffs in emojis:

❄️ vs. 🐯
🍁 vs. 🐻
🔔 vs. 🐧
😈 vs. ⚡️
🦈 vs. 🦆
🏕 vs. 🛩
💥 vs. 🇺🇸
👑 vs. ⚔️#BecauseItsTheCup @NHLNetwork @NHL

— Jamie Hersch (@JamieHersch) April 9, 2018
🤔… I'll allow it

— Keith Kinkaid (@Blockaid1) April 9, 2018
9.) Drake was seen supporting the Humboldt Broncos at the NBA's Toronto Raptors game, after the tragic incident.
8.) E.J. Hradek of the NHL Network proved again that he can all make us laugh.
Fore!! https://t.co/nfVLoGcswy

— E.J. Hradek (@EJHradek_NHL) April 17, 2018
Sharks are in position to be first NHL team ever to clinch a playoff series on the Golf Channel.

— Ray Ratto (@RattoIndy) April 17, 2018
7.) The Nashville Predators took things to a whole another level by adding the Winnipeg Jets' former logo, Atlanta Thrashers (1999-2011), during the traditional smash car prior to the team's playoff home games outside of Bridgestone Arena in downtown Nashville.
Smashville is going to Thrash this Jet before tonight's Game 1. #StanleyCup pic.twitter.com/y1CQalRYS3

— NHL on NBC (@NHLonNBCSports) April 27, 2018
6.) No one should be surprised that the Vegas Golden Knights Twitter account made it to this list. The Knights' tacky humor here was much appreciated by this hockey enthusiast.
This isn't the real Caesar holding a Golden Knights flag is it pic.twitter.com/DwSK8j4hLj

— Vegas Golden Knights (@GoldenKnights) April 28, 2018
5.) NHL Network's Jackie Redmond reminded us all that she's still a die-hard Toronto Maple Leafs fan, after a questionable call in Game 5 of Round One vs. the Boston Bruins. Gotta' appreciate the passion, though.
OKAYYYYYYYYY, I dont wanna be "that fan" but that last call on the Leafs was SOFT AF !!!

— Jackie Redmond (@Jackie_Redmond) April 22, 2018
4.) The Los Angeles Kings may have been the first team eliminated from the playoffs, but that didn't stop the City of Angels from poking fun at the San Jose Sharks over Twitter.
At least we aren't the last one without a Cup ¯_(ツ)_/¯ https://t.co/SvQpR0pMA2

— LA Kings (@LAKings) April 19, 2018
3.) Speaking of the Teal…the San Jose Sharks proved that they can be funny, too. The Teal's first tweet is a GIF of forward Evander Kane celebrating a goal during the team's Game 1 victory in Round One of the playoffs vs. the Anaheim Ducks. Yet, the Sharks didn't forget about their brick wall between the pipes in Martin Jones, either.
We Kane dig it. #DuckHunt

Recap: https://t.co/fX8fisL08E pic.twitter.com/q5ybfAsegz

— San Jose Sharks (@SanJoseSharks) April 13, 2018
Check out this great photo we took of Martin Jones tonight. pic.twitter.com/jW36bYAPrU

— San Jose Sharks (@SanJoseSharks) April 13, 2018
2.) The NHL's Official Instagram account was loving Nashville's crowd during Round One of the playoffs. So, here's another catfish photo from Smashville.
1.) The top Hooked on Hockey Magazine's Social Media Post for April is a shout out to everyone who supported the Humboldt Broncos, and with a hashtag #SticksoutforHumboldt via social.
My daughter doesn't have a hockey stick and didn't want to use her brothers so she did up 15 pucks with the names of those who were lost. Thoughts and Prayers from Belleville, On. #HumboldtStrong #SticksOutForHumboldt pic.twitter.com/G4pdXrNk5L

— mike boyd (@mikeband3) April 10, 2018
Tweet your NHL related questions to @KMcKenna_tLT5  to have them answered & be sure to use the hashtag #McKennasDigest
Kyle McKenna covers the NHL for Hooked On Hockey Magazine. He can be reached on Twitter (@KMcKenna_tLT5) 
Love Reading About Hockey?

Subscribe to keep up-to-date with the latest and most interesting hockey news!
| | |
| --- | --- |
| | We hate spam just as much as you |