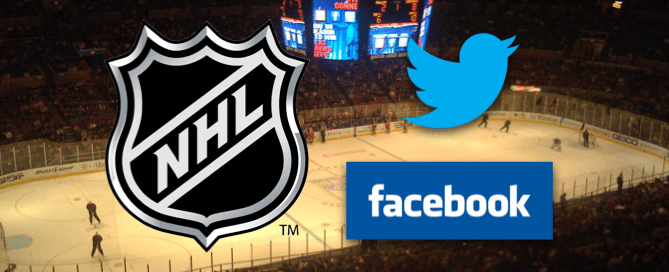 The month of May not only played the role of host for rounds two and three of the 2018 Stanley Cup Playoffs, but also some of the top social media posts from all around the NHL.
While Hooked on Hockey Magazine usually nominates 15 of the top social media posts, May was packed with too much entertaining action to limit this list to such a number.
Below are the top social media posts from the month of May. Perhaps one of your tweets made its way onto this list, too.
Vegas Golden Knights forward William Karlsson got witty with the NHL Network during the Western Conference Finals.
"You know I had my Vegas @GoldenKnights shirt when I was a kid." –@WKarlsson71 😂😂😂 pic.twitter.com/DJYHXU6mLY

— NHL Network (@NHLNetwork) May 21, 2018
The Washington Capitals posted this cool tribute video, after Alex Ovechkin and company finally defeated Sidney Crosby's Pittsburgh Penguins in the Stanley Cup Playoffs.
This time it was different. #ALLCAPS pic.twitter.com/paAIt0MZE2

— Washington Capitals (@Capitals) May 8, 2018
The New York Rangers weren't skating in this year's Stanley Cup Playoffs, but Hay, the Broadway Blueshirts always know how to entertain the fans.
Happy Birthday @KevinPHayes12!! 🎉 pic.twitter.com/C5JCicB0jd

— New York Rangers (@NYRangers) May 8, 2018
The NHL's graphic design department has clearly taken flight with these awesome images, recently.
With the #WpgWhiteout behind them, @markscheifele55 and the @NHLJets are flying high in the Western Conference Final. #StanleyCup pic.twitter.com/El8MW5Fube

— NHL (@NHL) May 14, 2018
I guess Stan Fischler hasn't retired, yet. But no one's necessarily complaining, either.
Now the question: where was #SidneyCrosby when it counted? I call it "attrition." Too many miles on his skates and it finally caught up to him.

— Stan Fischler (@StanFischler) May 8, 2018
Where would NBC Sports be without the legendary, Jeremy Roenick…JR proved he's dedicated by rallying alongside the Winnipeg Whiteout in round two vs. the Nashville Predators.
.@Jeremy_Roenick, is that you? pic.twitter.com/ltnG9fMXSP

— NBC Sports Hockey (@NBCSportsHockey) May 7, 2018
Do you have to wonder if Washington Capitals forward T.J. Oshie is the next coming of JR for NBC Sports, right? He's not only creative on the Caps' power play or in the shootout — that's for sure.
Proud of the boys tonight! And to add to the excitement I'd like to welcome back @tom_wilso to the #RightSide #FreeWilly2 pic.twitter.com/if2z0eIO2e

— TJ Oshie (@TJOshie77) May 8, 2018
Short and sweet. The Stanley Cup had other things in mind moving forward while trolling its ex, Pittsburgh Penguins, on Twitter.
It's been a great two years @penguins but I think it's time we see other people.

— The Stanley Cup (@StanleyCup) May 8, 2018
ESPN's diehard hockey fan, Steve Levy, is usually good for at least one of these humorous tweets a week. The tweet came towards the end of the Nashville Predators no-show performance during the team's (5-1) Game 7 loss to the Winnipeg Jets.
Predators are getting catfished…

— Steve Levy (@espnSteveLevy) May 11, 2018
WFAN's Mike Francesa finally began tweeting after all these years of ranting over the radio airwaves. Francesa, who recently returned from retirement, was never known to be a hockey supporter by any means. Yet, he's had some positive and intriguing NHL tweets since joining the platform. Welcome to the list, Mike.
'Back afta' this.'
Big day for Islanders fans if Lou Lamoriello rumors are true. He is one of the best ever.

— Mike Francesa (@MikeFrancesa) May 21, 2018
In case you didn't know, MLB superstar and Washington Nationals outfielder Bryce Harper, is from Las Vegas, Nevada. His Nationals have never won a World Series title, but perhaps one of his favorite NHL teams can inspire the power hitter.
Could you imagine a @GoldenKnights vs. @Capitals Stanley Cup?🙌🏻 #Epic

— Bryce Harper (@bryceharper3) May 1, 2018
Vegas' mascot, Chance, didn't hesitate to start trolling his fellow brothers after the Knights took down both the Los Angeles Kings and San Jose Sharks in the process of reaching the Stanley Cup Finals. What a way to spend the offseason with that view, though.
Enjoy the ballgame…
I have work in the morning. 😏#MascotShade #VegasBorn #StanleyCup pic.twitter.com/0L7eMoCpUK

— Chance (@ChanceNHL) May 7, 2018
Even after Boston Bruins forward Brad Marchand was told by the league to stop the face-licking nonsense during the playoffs, it didn't prevent the agitator from trolling all fans once the B's were eliminated during the second round by the Tampa Bay Lightning.
😘

— Brad Marchand (@Bmarch63) May 7, 2018
You dog, you.
Bark-Andre, the dog, has been stealing potential Conn Smythe Trophy winner and Vegas goaltender, Marc-Andre Fleury's, spotlight lately.
https://www.instagram.com/p/Bim99dCF_Qs/?utm_source=ig_embed
While Tampa Bay Lightning forward Nikita Kucherov wasn't electrifying on the ice during the Eastern Conference Finals, at least this Instagram post was…does this remind anyone else of something straight out of an X-Men movie or cartoon? No? Oh well…
https://www.instagram.com/p/BipKZnylDB5/?utm_source=ig_embed
The NHL Network's Tony Luftman was mind blown by Team USA's solid performance at this year's IIHF World Championships in Denmark.
https://twitter.com/TonyLuftman/status/997147104546996224
Not only are the Winnipeg Jets and Blake Wheeler still seeing Marc-Andre Fleury in their nightmares, but this also may haunt Wheeler for a long, long time.
So why did Marc-Andre Fleury tickle Blake Wheeler?

"There were scrambles all around. I felt left out a bit. I had nothing to do and I was just trying to get involved."

¯_(ツ)_/¯ #StanleyCup https://t.co/UYOFcm3pYc

— NHL (@NHL) May 17, 2018
Now, this is awesome. Yet, this was the first time HOHM saw this trolling message…so Shawn Roarke earns the credit and takes home the "W" with this one. Welcome to the list, Shawn.
A Vegas bar, Beerhaus, trolls the Winnipeg Jets with a memorable sign.
The #VGK fans are raising their sign game as playoffs go along Part 2 #StanleyCup pic.twitter.com/dAuvzCuzoD

— Shawn Roarke (@sroarke_nhl) May 18, 2018
You tell 'em, Jamie. The NHL Network's Jamie Hersch left us inspired after a troll tried to be 'that guy' and take her down over social media.
This woman worked hard and had a few people take a chance on her along the way… despite typos! Amazing!! 🙏🏼🙋🏼‍♀️ https://t.co/gG2DjK4WQ9

— Jamie Hersch (@JamieHersch) May 24, 2018
Remember when head coach Gerard Gallant was fired immediately after a loss while coaching the Florida Panthers during a road trip last season? AP Writer Tim Reynolds beat everyone to the punch with this memorable and bittersweet tweet right after the Knights punched their first-ever ticket to the Stanley Cup Finals.
"To the Stanley Cup final, please." pic.twitter.com/MtksEL4RpB

— Tim Reynolds (@ByTimReynolds) May 20, 2018
Honorary Mention
Oh, and apparently this guy picked a Vegas Golden Knights-Washington Capitals Stanley Cup Final for his NHL Bracket Challenge…
100% 🔥🔥🔥🔥

(THX @3kellykeenan!) pic.twitter.com/CHfP6WbzsG

— Freezing Cold Takes (@OldTakesExposed) May 24, 2018
Tweet your NHL related questions to @KMcKenna_tLT5 to have them answered & be sure to use the hashtag #McKennasDigest
Kyle McKenna covers the NHL for Hooked On Hockey Magazine. He can be reached on Twitter (@KMcKenna_tLT5)