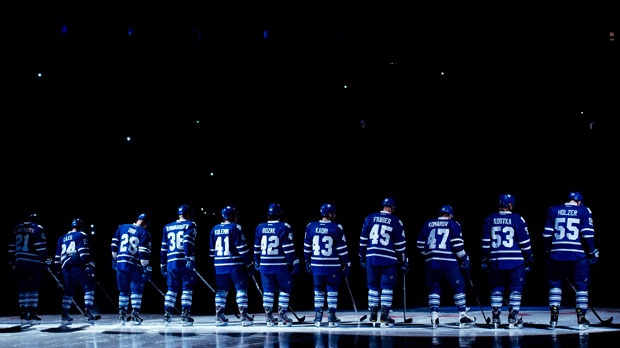 Part 1: A look at the numbers
Part 2: Focus on the playoffs
Part 3: Forwards
Part 4: Defence + Goaltending
Part 5: Free-Agency Situations: Who will stay or who will go?
Part 6: Draft
Part 7: The Leafs' new division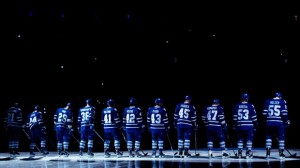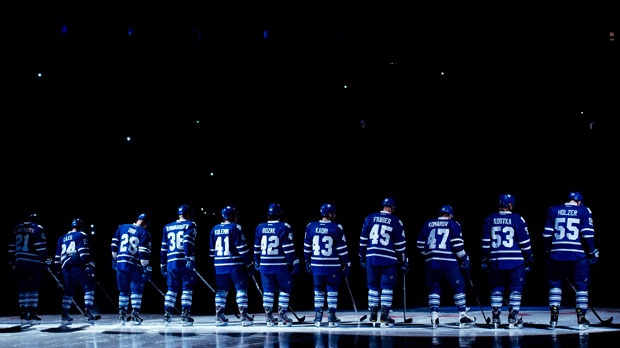 Part 1: A look at the numbers
25-17-5
The Toronto Maple Leafs' season record for the lockout-shortened season, which was good enough to land them fifth in the Eastern Conference and tied for ninth overall in the league. There is only a one point difference between home games and away games, meaning the Leafs were as good on the road as at home.
0-5
The Leafs lost every single game that went to a shoot-out. The only Leaf player that found success in the shoot-out was Tyler Bozak.
176
New addition to the team, Leo Komarov, put up 176 hits in 42 games to lead the league. Second place belonged to Nashville's Richard Clune who had 159 hits.
Player Stats:
Forwards:
The top three offensive players were: (Regular season) playoffs
Phil Kessel: (20g 32a 52p) 4g-2a-7p
Nazem Kadri (18g 26a 44p) 1g-3a-4p
James van Riemsdyk (18g 14a 32p) 2g-5a-7p
Kessel, despite not scoring for the first ten games, finished with over a point per game. Kadri showed how his development with the Marlies was really paying off, leading the team in points for the first part of the season. JVR was also able to step up early in the season to show that he was worth the price of Luke Schenn, who got to play with his brother in Philadelphia.
It is also worth mentioning that Joffrey Lupul, who missed games due to a broken arm, concussion and suspension, was able to put up 18 points (11g and 7a) in only 16 regular season games, and also scored four points in the play-offs.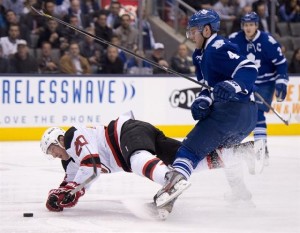 Defence:
Cody Franson (4g 25a 29p) 3g-3a-6p
Dion Phaneuf (9g 19a 28p) 1g-2a-3p
Jake Gardiner 1g-4a-5p
The Leafs' defence saw the rise of the Mark Fraser- Cody Franson pairing, moving from the third defensive pairing to the second. Fraser and Franson worked together well, complimenting each other. Franson was the top defencemen in points for the Leafs, which is surprising considering the Leafs got him in return for Brett Lebda.
Dion Phaneuf, team captain, played well finishing only one point behind Franson while facing tougher competition. Phaneuf, who was usually paired with Carl Gunnarsson, also played a few games paired with Korbinian Holzer.
Jake Gardiner did not get much of a look during the regular season, but it seems as though he was given more latitude from Randy Carlyle in the post-season. Gardiner drove play, and can be a top pairing defencemen if he can work on his play in his own end.
Special Teams:
Power Play:
Leafs finished 14th in the League, scoring 31 times in 166 opportunities for a 18.7 power play percentage.
Penalty Kill:
The Leafs finished 2nd in the league for penalty killing, giving up only 19 short-handed goals in 157 times short-handed. The Leafs had a penalty-killing percentage of 87.9%
One cannot mention the success of the Leafs' penalty-killing without giving Jay McClement lots of credit. McClement played more minutes on the penalty kill than any other player in the league, killing 178.88 minutes on the power play. McClement's average ice-time is 14:44.
Goaltending:
James Reimer: 19-8-5, .925 save percentage, 2.46 goals against average, 4 shutouts
Ben Scrivens: 7-9-0, .915 save percentage, 2.69 goals against average, 2 shutouts
The Leafs owe much of their success to the play of their goaltenders. Reimer and Scrivens both stepped up and played well when needed. When Reimer was hurt part way through the season, Scrivens was able to step up and keep the Leafs in the running. Reimer's play has also shown that he is a bone fide NHL starting goaltender. With the Leafs secure in goal, then can now look to bolster their defence.
This wraps up Part 1 of the Leafs season review. Part 2 will be looking at the Leafs playoffs in detail, and looking at what went wrong, and what didn't.