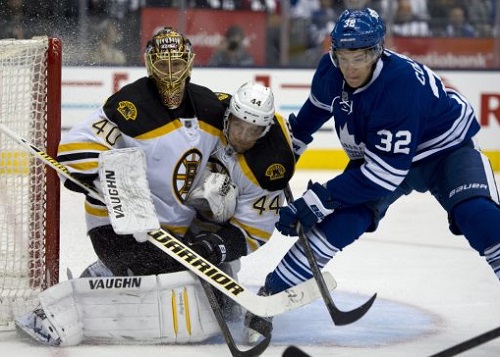 The Toronto Maple Leafs have announced that they have signed Joe Colborne to a one year $600,000 deal. Colborne was a restricted free agent.
Colborne, 23, was drafted by the Boston Bruins 16th overall in the 2008 NHL Entry Draft.
On February 18, 2011 Colborne was traded by Boston along with a first round pick in the 2011 draft and a second round pick in the 2012 in exchange for Toronto defensemen Tomas Kaberle.
Colborne has played in 15 NHL games with the Leafs netting 1 goal and four assists for a total of five points.
The Maple Leafs have also signed Troy Bodie to a one-year two-way contract. Bodie is expected to add depth to the Toronto Marlies.
The third piece of Maple Leafs news is that defensemen Carl Gunnarsson and Mark Fraser have both opted for salary arbitration. This means that the Leafs would be unable to walk away from any contract awarded with a value more than $3.5 million. The Leafs will be able to choose whether the deal will be for one year or two.
Last year Gunnarrson made $1.25 million with a cap hit of $1.325 million. Gunnarsson has spent much of the last two year paired with Dion Phaneuf on the top defensive pairing, so it is likely that he receives a raise.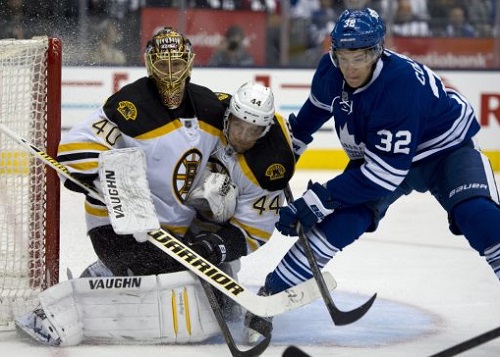 Fraser made $600,000 last year, and turned down a two-way qualifying offer. Fraser played a lot of minutes with fellow restricted free agent Cody Franson.
This is the third time that Fraser has filed for arbitration in his career, the first two times were with the New Jersey Devils.
The Leafs have yet to sign Nazem Kadri or Franson, and with Gunnarsson and Fraser's contract numbers unknown at this time there is some uncertainty if all four plays will be in blue and white next year.
As of right now the Leafs have $9,720,833 in cap space, so they should be able to sign all four players, but it is important to keep some roster flexibility available in case of injuries.