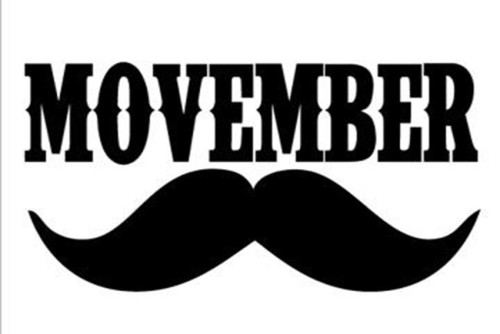 Let's be honest, watching hockey is exponentially more enjoyable when it's considered socially acceptable to endlessly gaze at – and judge – the beautiful upper lip hair of every player. The annual monthly event of Movember has become increasingly popular amongst NHL players with each succeeding season, this one being no exception. Movember consists of growing moustaches for the purpose of raising awareness about men's health issues. Thus far this year, the Movember foundation has raised over $45 million. Leafs general manager Lou Lamoriello, however, obviously missed the Movember memo as it appears as though Leaf players were advised against growing significant amounts of said facial hair. I hope you're happy spoiling all our fun, Lou. The overall effort this year from the Toronto Maple Leafs was less than stiff, but regardless, a top 5 countdown is in order. So bare with me. Please stay the coarse. Are you ready fur this? Should I shave all these puns for later? I don't want to goatee far. Scratch that – I think I already have. Ok, I'll droop it now. Sorry. (That was locks of fun.)
5. Joffrey Lupul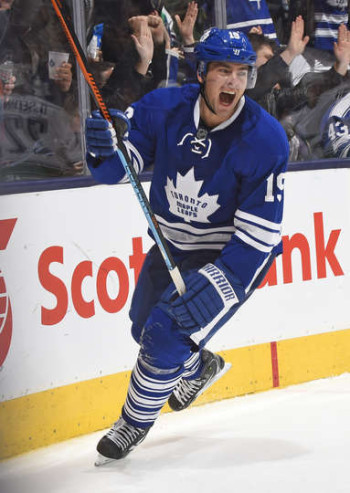 Moustache nickname: The "now you see me, now you don't"
Moustache evaluation: Where's the middle of the 'stache? All that's really visible are some pencil-thin strips of hair at both ends. His 'mo is like a confused cross-breed between the stereotypical moustache of an evil genius and a French chef. Errr, interesting effort.
Impact on November play:
Lupul's on-ice performance this month has been very solid. It seems as though he's beginning to hit his stride. Although not a completely accurate representation of his strong play, in 13 November games thus far, Lupul has 7 points and 34 shots on goal. He's visibly become increasingly comfortable controlling the puck and making plays in the offensive zone. He's harder on the forecheck as well. During many games, he's displayed flashes of brilliance that resemble his impressive play from portions of the 2013-14 season.
4. Nazem Kadri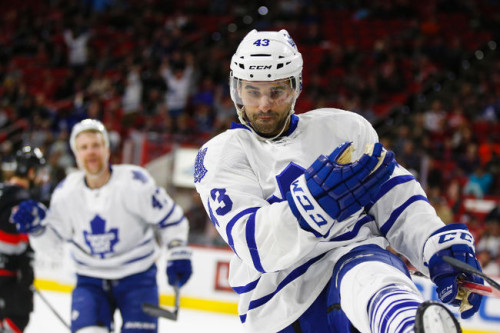 Moustache nickname: The "specks of sand"
Moustache evaluation: Naz is growing a beach on his face and it's rockin'.
Impact on November play:
Aside from the tiny insignificant detail that he can't seem to buy himself a goal (1 goal in 13 games), Kadri's play has been great this month. The most noticeable improvement in his game is his minimization of turnovers. He's making smarter plays with the puck and utilizing his teammates more as well. He's consistently been a factor on the ice and has reaped the rewards from coach Babcock through an average of nearly 19:00 of ice time per game. Also worthy of acknowledgement is the fact that he hasn't allowed his scoring woes to deter him: he continues to pound shots at the net (he's had 47 shots on goal in November) and puts forth his best effort whenever he steps on the ice.
3. Shawn Matthias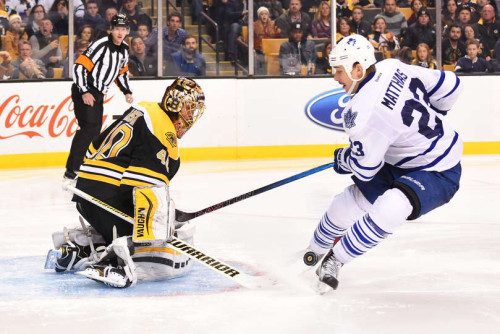 Moustache nickname: The "classy milk moustachey"
Moustache evaluation: It's like a milk moustache with a classy vibe, you know? It's sleek and looks soft proving that Matthias knows how to groom his face furniture.
Impact on November play:
Matthias has recently been playing to his strengths and has subsequently become a valuable member of this team. He's a big body (6'4'' and 223 pounds) who uses his size and strength to his advantage. He wins one on one battles along the boards, protects the puck well, and drives the net like it's his day job (wait a second…). Upon working his way up to the second line, the 27 year old has 5 points and 14 hits in 13 games. He sports a respectable plus/minus rating of 0 this month.
2. Brad Boyes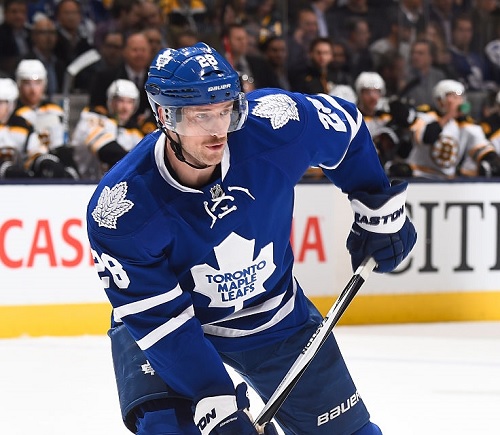 Moustache nickname: The "swollen toothbrush"
Moustache evaluation: Brad's inspiration for his brow was surely derived directly from the bristles of an overused toothbrush. His moustache measures high in the "fluffiness" category but appears as though it would benefit greatly from some time in a moisture-filled, tropical destination.
Impact on November play:
Brad Boyes has been somewhat of a disappointment this month. He has yet to find his place on this team and as a result, has spent 3 November games in the press box as a healthy scratch. The right winger has sporadically shown he's still capable of creating scoring chances, however playing time has been his biggest nemesis (averaging 10:19 of ice time per game).
1. Leo Komarov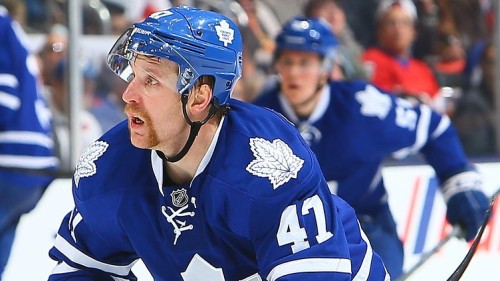 Moustache nickname: The "Finnish flare"
Moustache evaluation: Now that is a thing of beauty. It's bushy and well-shaped and glorious. Leo, you are a mustache God.
Impact on November play:
Komarov has been a beast on the ice this month: he's a human bowling ball (70 hits!) who back-checks, is sound positionally, and produces offensively (7 points and 22 shots on goal in 13 games). He drives the front of the net, wins battles along the boards, and is typically the hardest working player on the ice. Everyone loves Leo and his marvelous 'stache.