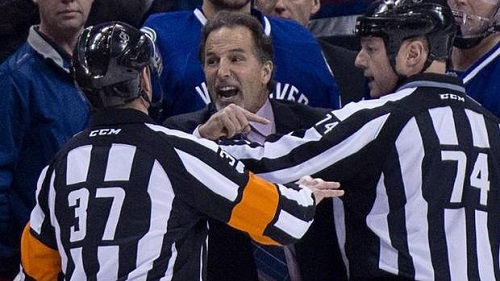 John Tortorella was suspended yesterday in New York after intruding into the Calgary Flames locker room hallway during the 1st period intermission. Tortorella was fired up after a huge melee broke out on the ice two seconds into the game which led him to charge the Flames locker room area after the 1st period.
"Mr. Tortorella's actions in attempting to enter the Calgary Flames locker room after the first period was both dangerous and an embarrassment to the League," said Colin Campbell in a statement released by the league.
Tortorella's suspension began on Sunday and can return behind the bench on February 3rd. The Canucks will be on the road to play against the Detroit Red Wings that game.
During the 15 days he's suspended the Canucks head coach will not be allowed to be near the team and cannot be in contact with any player during a game, after a game, on a day off or before a game.
Bob Hartley was also fined $25,000 for putting out Kevin Westgarth who attempted a premeditated fight with Kevin Bieksa.
The Canucks released a statement regarding the suspension of John Tortorella.
"We respect the decision made by the National Hockey League today to suspend John Tortorella for 15 days from Sunday, with no contact with the team for six games," said Canucks general manager Mike Gillis in the statement.