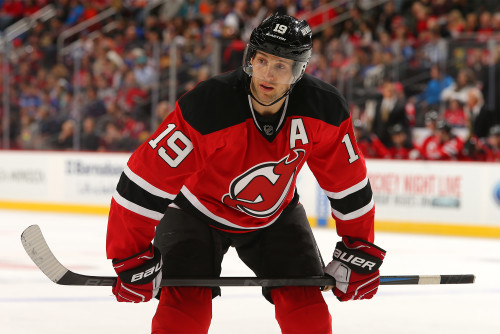 The New Jersey Devils' motto this season is #RELENTLESS. And, now is the time for them to prove they believe in it. Recent injuries to first line centre Adam Henrique and second line centre Travis Zajac have now forced struggling third liner Jacob Josefson into the first-line position, where he found himself in a crushing 4-0 loss to the division rival New York Islanders.
Henrique was hurt in a December 8 matchup against the Maple Leafs, when Matt Humwick checked him into the boards halfway through the second. He awkwardly crashed into the boards, hurting what appeared to be his left leg. He has not played since, and is considered day-to-day. Henrique is a major part of the club, as he has 13 goals (two of which are shorthanded, two are on the powerplay, and four are game winners), plays in all situations, and has a remarkable 20.6 shot percentage. He has 23 points in 27 games, and his presence down the middle is clearly important.
Zajac, the face-off expert, suffered an upper body injury in a 5-1 victory over the Carolina Hurricanes. He has not played since, and it was confirmed that the Winnipeg native was placed on the IR retroactively from December 3. The centre scored a respectable 15 points (6G – 9A) in 24 games, and spent time on the first penalty kill unit, alongside Henrique. He has a short-handed goal on the season, and spends time on the second power play unit as well, where he has been effective. This leaves Josefson to occupy the top spot in the middle — likely not a sight Devils fans want to see.
Cory Schneider told Fire and Ice's Tom Gulitti, "It's tough for any team (if) you lose your first two centermen, but it's that time of the year when the schedule is really picked up here since Thanksgiving. We've played a lot of games these last two weeks. Sometimes you're going to get injuries. It's kind of that battle of attrition right now for everybody. You look around the league and a lot of teams are missing key guys. So, we can't whine about it or mope. We have to have guys step up. We'll see how those other guys are doing and, hopefully they're back soon, but if not then we have to guys come in and take their responsibilities on."
As injuries mount, all the Devils can do is prove that they have what it takes to remain afloat.
Love Reading About Hockey?

Subscribe to keep up-to-date with the latest and most interesting hockey news!
| | |
| --- | --- |
| | We hate spam just as much as you |