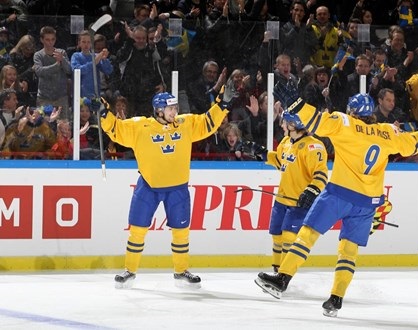 Team Sweden (Tre Konor) fans had plenty to cheer for in their team's 5-3 win over Switzerland. The almost-sold-out crowd got a glimpse of just how good Filip Forsberg is. The captain had one goal and two assists, with one of the assists coming on the game winner.
When asked about the game in a postgame interview, Swedish forward Oskar Sundqvist admitted, "We've had trouble with Switzerland for three years now. We can't just go out there and hope to win. We have to make it happen as a team. And we did."
The game saw five goals in the opening period with four of them coming within about three minutes of each other. Switzerland opened up the scoring with a power-play goal: Jason Fuch took a shot from the point that was put in by Sandro Zangger, putting Switerland up 1-0 with 14:17 left in the first.
Sweden found its answer 71 seconds later on a delayed penalty. Filip Forsberg skated through three Swiss defenders and drew a hooking call. Then, with the extra attacker, Forsberg made his way to the point and drilled in a one timer on a pass from Jacob de la Rose making it 1-1 with 13:06 left to play.
Switzerland climbed back in front with an even strength goal by Kevin Fiala. After a bad turnover by Sweden in the neutral zone, Switzerland entered the offensive zone with a three-on-two. Vincent Praplan dropped the puck to Fiala who went one-on-one against Sweden's goalie Oscar Dansk. Fiala lifted a backhand past Dansk and put the Swiss up 2-1 with 11:37 left to play.
Sweden found their second goal just 21 seconds later. A sloppy pass by Zangger in his own end was intercepted by Erik Karlsson. Karlsson passed it to Lukas Bengtsson who beat Melvin Nyffeler and made it 2-2 with 11:16 left to play.
Sweden then took a 3-2 lead with 2:42 left in the first. After a good forecheck by Sweden forced a turnover by the goal line in the offensive zone, Forsberg hit Sundqvist at the back side of Nyffeler's goal. Sundqvist was robbed by Nyffeler on his first attempt but no Swiss defender got a stick on Sundqvist and he slid the puck five hole in the second effort.
The second period ended scoreless but there was some excitement for the fans. Both teams had chances, but no one could find the back of the net.
The Swiss tied it back up 61 seconds into the third period on the man advantage. A shot from the point created chaos in front. Dansk couldn't get to the puck before Fabrice Herzog knocked it come.
And just like they did in the first period, Sweden had a quick answer to the Swiss. On a power play of their own, Capitals prospect Christian Djoos's slapshot from the point beat a heavily screened Nyffeler. Djoos's goal was assist by another Capitals prospect Andre Burakowsky.
The Swedes closed the door with a late goal by Alex Wennberg, who stole the puck from behind the Swiss net and scored.
Tre Kronor play again tomorrow, Dec. 28th, against Finland.
Love Reading About Hockey?

Subscribe to keep up-to-date with the latest and most interesting hockey news!
| | |
| --- | --- |
| | We hate spam just as much as you |