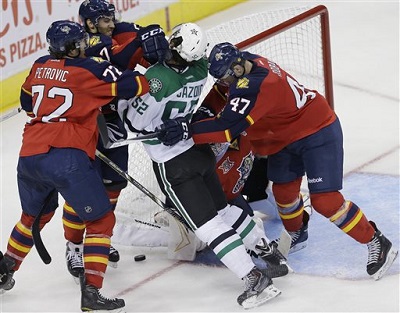 Amid of one of the biggest youth movements (in terms of farm system depth, at least) since the hippies and Woodstock, the Florida Panthers occupy an all too familiar spot in the basement of the NHL standings- in scrounging 12 points from 19 games played, the boys in red are top candidates for the draft lottery. While they aren't suffering from that dastardly injury bug that bit them so often last campaign (278 times, to be exact), there's a snake slithering in the grass around Sunrise. Players typically leaned on to produce points have gone AWOL, most notably big Slovakian winger Tomas Kopecky (one more point than I have through 19 contests) and newly resigned Shawn Matthias (four points and a minus-four rating through 19 games).
The Cats find themselves in quite the quandry-does General Manager Dale Tallon stick with the grizzled vets, in the hope that their collective leaderships and experience will ultimately guide the club and its young guns out of the cellar? Or do they pull a complete about-face, and follow the template set by the Buffalo Sabres-do they roll out the kids, baptizing them by fire in the most competitive hockey league on the planet?
I, for one, am in favor of the second approach. Especially when only three points separate the two squads in overall league standings in spite of the disparity in average ages (25.376 for the Sabres, 29.311 for the Panthers-first and last in the category).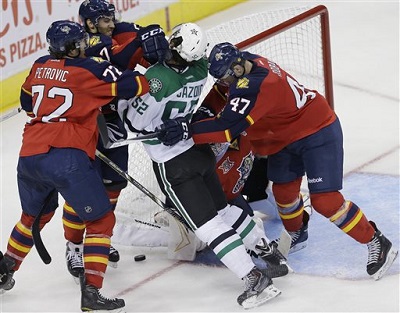 I recognize the argument made in favor of allowing prospects to season for at least a year in the AHL, one that cites the potential shock and ensuing hindrance in development for players if they're thrown into the pressure cooker that is playing at the elite level of the sport. And I'm wary of it; I worry in particular for one Jacob Markstrom, whose struggles are hopefully more a product of playing behind a defense more reminiscent of a sieve than the rigors of an 82-game schedule against some of the toughest men skating this Earth.
But, when players-early on in their pro careers-show an ability to compete at a competent level in the professional ranks, you've got to give them a shot. And when they perform at the level they do on a team that currently inhabits the bottom half of their respective conference, you can't help but give them a look.
Vincent Trocheck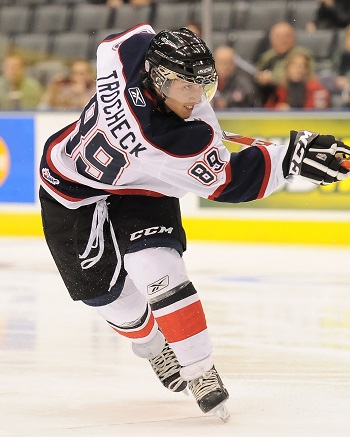 A year removed from absolutely lighting up the OHL, continues to produce in his rookie season. Thus far, he has shown an ability to develop his potential year after year; each season of his four-year junior career saw increases in goals, assists, and points tallied. He arrived in San Antonio after securing the OHL's Red Tilson trophy-essentially league MVP-following a 50-goal, 109-point campaign (something I couldn't pull in NHL 13). And for a rookie, he hasn't shown signs of slowing down-through 14 games, Trocheck's posted a total of 12 points, six of which have been goals. He's converting his shots at a 13% clip, and owns a plus-three rating on a team with a minus-five goal differential. While the jump in competition is substantial, the centerman ought to provide a spark to a slumping powerplay, and boost the quality of play on both sides of the puck. The only foreseeable issue? His position-with 7 skaters listed as centers on the Panthers team roster, a logjam exists that would only be cleared either by a shuffling of positions or a demotion. At any rate, the Cats could use an injection of energy, something which Trocheck brings on every shift. And besides, he's a nice guy. I got a picture with him over the summer.
Alex Petrovic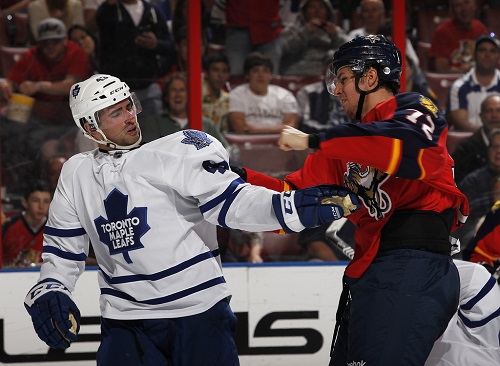 It's no small secret that the Panthers possess one of the worst defensive units in the league-laying claim to a 3.32 Goals Against per game mark, there's much more than small space for improvement. And when the other five active defensemen who made the opening day roster (in order of decreasing point totals-Tom Gilbert [no goals, four points], Dmitry Kulikov [one goal, three points], Matt Gilroy [one goal, two points], Erik Gudbranson [no goals, two points] and Mike Weaver [no goals, one point]) have combined for only two more points and an equal number of goals than Brian Campbell has totaled, that space effectively turns into a chasm.
Enter Alex Petrovic; the 21-year old D-man enters the discussion with two seasons of pro hockey under his belt. At 6'4″ and 201 pounds, he's built more like a wall than a typical player-per Hockey's Future, "… it is the physical game where he excels. He punishes opponents in the corners and intimidates attacking forwards". The Panthers could use an imposing presence to match Gudbranson's penchant-however inconcsistent-to play the physical game and keep opposing forwards in check. Furthermore, he has posted six points-two of which have been tallies-through 14 games. His plus-seven rating is no fluke; through 55 games last season, he maintained a plus-eight. Add in 27 penalty minutes for good measure, and you have a lean, mean, sandpaper-edged machine who holds no reserves when it comes to beating you to a pulp.
Court dismissed. Bring in the dancing lobsters.