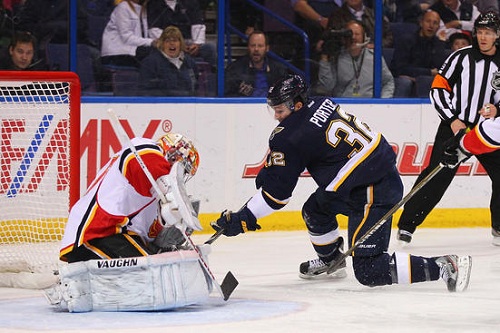 For the second straight year, the St. Louis Blues have earned their ticket to the Stanley Cup playoffs. While the Blues have earned their spot the hard way, through hard-fought battles, roster shuffling, and close games, they have earned their way. A prediction that was shouted out earlier in the year.
But while the Blues were predicted to make the post-season, they've made that call questionable throughout the year. Last year saw the Blues play at the top of their game, and at a level that many fans were hoping to see repeated. With two stellar netminders to wall up the goal, and young talent to score up front, the Blues looked like a shoe-in for the playoffs.
Coach Ken Hitchcock has said that this season has been "as challenging as any season I've ever coached in."
Despite the turbulence, the Blue-Notes are on the road to meet Stanley.
T.J. Oshie will be back in the lineup, hopefully, for the first round of the playoffs. Oshie will return after his surgery to repair a stress fracture to his left ankle. "He'll be a full-time participant," said Hitchcock. "He'll be ready." Barret Jackman has also been out with an injury, but he'll be back for playoff hockey along with Oshie.
Jaroslav Halak has been reactivated from injured reserve after missing a dozen games due to a groin injury. Brian Elliott has been solid and should be expected to also play in the post-season. All good news for the Blues, as long as the goaltenders can stay healthy, they should be expected to play at playoff-caliber.
St. Louis will face the red-hot Chicago Blackhawks tonight at home and can take control of home-ice advantage in the playoffs with a win. They have a good chance of making it happen as Chicago will be without a handful of their top stars. Players like Patrick Kane, Marion Hossa, Patrick Sharp, Jonathan Toews, Duncan Keith, and Brent Seabrook will all be missing from Chicago's roster.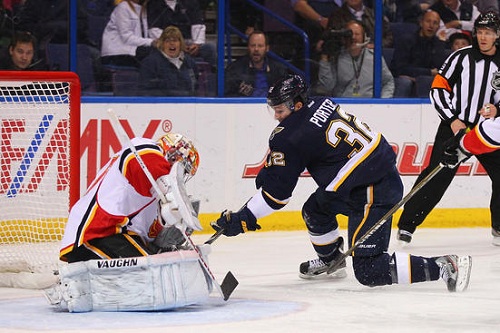 The good news: Chicago's top players won't play. The bad news: Chicago is resting them up for the playoffs. St. Louis won't play Chicago in the first round, but they have the potential to play them later on, a scenario General Manager Doug Armstrong is grateful for.
"I don't want to play Chicago right now," he said. "Chicago is the one team that from start to finish has put a three-month distance between itself and the rest of the pack."
Though a Blackhawks-Blues matchup in the playoffs may be in the cards later on down the road, the two teams will battle tonight at the Scottrade Center, where the Blues can look to pick up two points off the league's best.