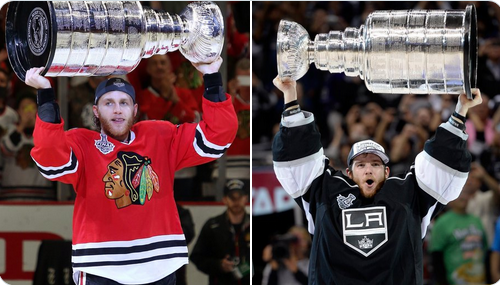 The Los Angeles Kings sent Jonathan Quick to the Columbus Blue Jackets late Tuesday, hours after the Chicago Blackhawks parted ways with a franchise legend in Patrick Kane, according to NHL insider Frank Seravalli.
The Kings made the decision to move Jonathan Quick, 37, because he will be eligible for free agency at the end of the 2022-23 NHL season. Quick appears to be unhappy with the trade.
"To say Jonathan Quick is unhappy with the trade, I'm told, is 'an understatement,'" per Seravalli.
Quick is no longer the elite goalie he once was in the NHL. So far this season, he has an 11-13-4 record with a 3.5 GA/A and a.876 saves percentage in 31 appearances. Jonathan Quick allowed three goals on seven shots faced in the Kings' 5-2 road loss to the New York Rangers last Sunday, his final game in a Kings uniform.
Jonathan Quick was once one of the NHL's most feared goaltenders, but his play has deteriorated in recent years.
One of the worst-kept secrets heading into the NHL Trade Deadline finally went down on Tuesday as Patrick Kane left the Blackhawks for the New York Rangers.
Kane, a native of Buffalo, would only waive his no-trade clause for the Rangers and they certainly took advantage of the situation.
In what was a complicated deal — one in which Chicago retains 50 percent of Kane's cap and Arizona takes 25 percent — the Rangers give up a second-round pick which could be a first in 2024 or 2025 if New York makes it to the East finals.Kane spent close to 16 seasons with the Blackhawks and won the Stanley Cup three times in Chicago. He is also the second-highest scorer in franchise history.
"This has been an emotional time for me and my family, but I feel this decision puts me in the best spot to immediately win another Stanley Cup," Kane said in a statement.
"This isn't about me leaving the Blackhawks, but this is an opportunity for me — the Blackhawks did everything they could to put me in a great position and I will forever be grateful.''