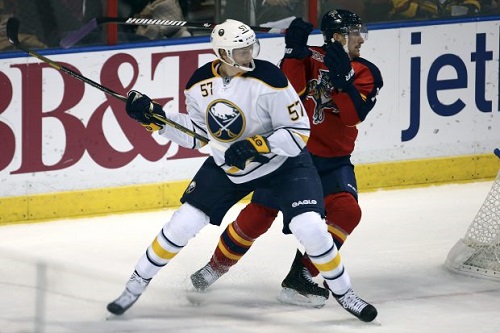 Sabres defensemen Tyler Myers was suspended 3 games for his hit on New Jersey Devils forward Dainius Zubrus on Jan 4th. Zubrus was a little shaken up on the play but did not sustain a major injury. Myers received a minor penalty for an illegal hit to the head. Buffalo won the game 2-1 and it was their 5th straight win at home.
Perhaps what is tough for Myers in terms of hits is the fact that he is 6'8. Being as tall as he is, if he lets an elbow or shoulder fly, it's going to hit someone in the face. The Sabres coaching staff has encouraged Myers to be more aggressive and he has been playing better since Ted Nolan was named coach.
Myers was suspended once before for boarding Scott Gomez in a game back in March 2012. He was also suspended 3 games for that incident. Hopefully this incident will not deter his play which has been better as of late. Sabres fans are hoping he can return to his Calder Trophy winning form when he had 11 goals and 37 assists in his rookie campaign.