Featured
U.S. Women Shell Sweden, Will Face Canada Thursday
Although the final score makes it appear otherwise, Monday's semifinal matchup between the United States and Sweden was an exciting game. It doesn't matter that the end result was never seriously in question, the fact that Sweden upset perennial bronze medalist Finland to even make it to this round was a good change of pace, and it gave the U.S. an unexpected semifinal opponent.
The U.S. had six different goal scorers in Alex Carpenter, Kacey Bellamy, Amanda Kessel, Monique Lamoureux, Megan Bozek, and Brianna Decker. Bozek and Decker had two assists each in addition to a goal, while Bellamy and Kessel each added one assist. Kessel, Decker, and US forward Kendall Coyne are currently tied with Yekaterina Smolentseva (RUS) and Pemilla Winberg (SWE) for first in tournament scoring.
Valentina Wallner, Sweden's starting goaltender, had a terrific performance against the U.S. team's prolonged offensive attack despite giving up 5 goals. It must be noted that when she was relieved halfway through the second period, after giving up that fifth, she had faced 45 shots already – typically considered a full game's worth of shots in the NHL (and often, shot totals don't even get that high). Wallner, who was replaced by Kim Martin Hassen, was only pulled, according to her coach, because "she had a busy day at work." Martin Hassen faced 20 more shots in the remainder of the game, giving up only one goal to Brianna Decker and stonewalling Jocelyne Lamoureux on a penalty shot attempt in the third period. The Swedish team also managed to ruin goaltender Jessie Vetter's shutout bid when Anna Borgqvist slipped one past her in the third period, setting off a huge eruption of cheers at Shayba Arena.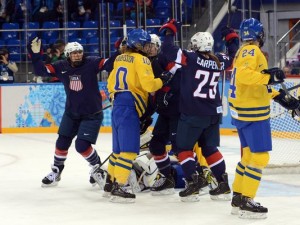 But there was just no stopping the U.S. women today. It was as if after their 3-2 loss to Canada, someone lit a fire under them that spurred them on to play as aggressively as they knew how, and though Sweden put up a good fight, they were no match for that fire and fervor. And don't expect that attitude to go away before the gold medal game, either. These women know what is at stake – the chance at the first U.S. gold in women's hockey since the sport was added to the Olympics in 1998.
"We're very pleased and taking the moment to recognize where we're at and what we're going to be playing for Thursday," head coach Katey Stone told the media. "I liked how our team responded and they know we're not finished yet."
If this U.S. team gets their way, they won't be finished until they're standing atop that podium Thursday night.