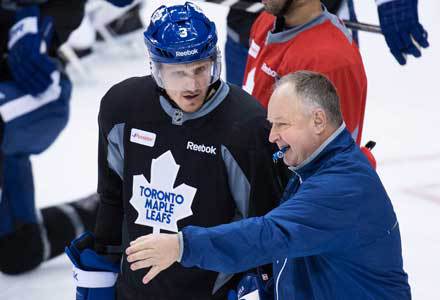 With the decision to keep current Maple Leafs coach Randy Carlyle on for an extra two season, Leafs' fans may be in for an interesting summer as the gears seem to be in motion to change the current Leafs roster for better or for worse.
It all starts with contracts in Toronto and just how seriously this club takes them. Past, present and future.
Like it or not, Randy Carlyle will be here a maximum of three more seasons. With that said, this is Toronto. Just ask Ron Wilson about his contract extension.
Sorry, Ron.
Carlyle will undoubtedly be coaching to save his job next season. He has the confidence of Shanahan, Nonis and MLSE as they believe that Carlyle is the man to get the Leafs on track. He managed to wrestle the Leaf into a playoff spot during the shortened season and pushed the Bruins to game seven in the first round. While that ended poorly, Carlyle displayed the patience he has when it comes to high pressure situations as well as knowing which are the right changes to make.
But even with all that, based on past years, Carlyle may be left standing outside the Air Canada Centre with nothing but a plane ticket and his unused contract if things go south early on. Is this the culture change that MLSE has been trying to instil? "Lets offer out bench boss a brand new contract, even though he still has another year left, and if he does poorly we can just kick him to the curb." But who else is available to replace Carlyle and is willing to deal with what Toronto has to offer? Who else wants to experience a false sense of hope shortly after met with a stake through the heart? The big city, the even bigger media hounds, poor job security, and a team that doesn't fit the mold of the modern NHL. What's not to love?!
In the spirit of getting rid of newly inked contracts, Leafs captain Dion Phaneuf joins the likes of Nazim Kadri and Jake Gardiner in recent trade speculations even after signing a seven-year contract back in December.
Phaneuf had an up and down season to say the least. Questions pertaining to his game, leadership abilities and worth were all thrown at the 29-year-old defensemen with force. Phaneuf averaged 23 minutes a night against some of the best top lines in the NHL. Night after night he was being asked to shutdown the best players when in reality that just isn't how he's played and not what sparked his trade from Calgary.
Phaneuf is a gifted offensive defenseman. Key word there is offensive. Yes, everyone knows that a defenseman should defend but not every defenseman will play the same. Thus, players like Dustin Byfuglien and Brent Burns making to jump to forward positions. Hell, even Jake Gardiner was a forward at one point.
As much as the Leafs need a solid defensive core they shouldn't be asking the wrong players to adapt to their needs. But because this was expected and hasn't panned out they way it was fantasized about, the captain find himself on the outside standing right beside Randy
Why not give this big-bodied, physical, offensive defenseman a proper pairing and see what happens? Moving the best chance the Leafs have of deeming their blue line NHL-ready once again goes against the culture change this club "needs." Certainly moving the only player who could be here longer then a season and avidly takes on a leadership role wouldn't help either. Say goodbye to any sort of collaborative effort from a team will commit to their captain just as fast as they will drop him.