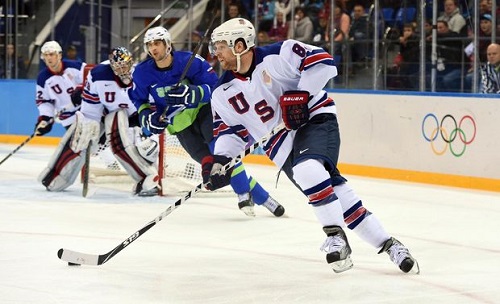 Before I begin, I'd like to give Slovenia some well-deserved praise. Pinned as the underdog's underdog, slated to lose each game in Group A, the Olympic novices threw a plus-sized monkey wrench into everyone's plans; led by lone NHL star Anze Kopitar, Slovenia gave the host Russians a scare for the better part of two periods in their Olympic opener before pulling an FGCU and blowing up everybody's brackets by upsetting the favored Slovaks 3-1. In earning the nation's first Olympic win in Men's Ice Hockey, coach Matjaz Kopitar's men earned global recognition on the international game's biggest stage. And for that, I give you a slow clap, Slovenia. Stay golden, boys.
Switching gears here, the Americans-fresh off of a rousing shootout victory against team Russia-blew up the tournament's newcomers, dropping five in a 100% Angus, USDA-approved thrashing. Playing without suspended defenseman Sabahudin Kovacevic, Luka Gracnar and friends were done in by a Phil Kessel natural hat-trick, a feat supplemented by goals from New York Rangers' rearguard Ryan McDonagh and St. Louis Blues' captain David Backes.
Getting the nod for his first start of the tournament, Buffalo Sabres goaltender Ryan Miller turned aside 17 of 18 shots against, carrying a shutout through 59:42 before SOMEBODY WENT AND JINXED THE WHOLE THING. Bad juju aside, the 2010 Olympic MVP turned in a .944 save percentage, cementing his worth on the roster and affording US coach Dan Bylsma the luxury of dealing with a 1A/1B goalie "controversy".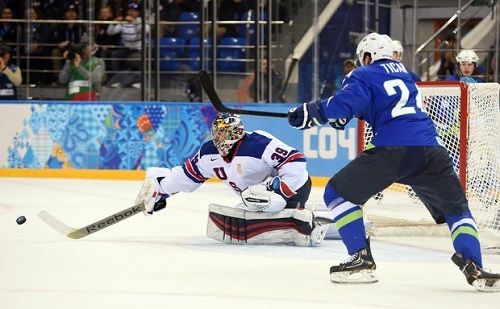 Notching points for the Red, White and Blue:
Joe Pavelski (3A)
James van Riemsdyk (1A)
Dustin Brown (1A)
Ryan Callahan (1A)
Blake Wheeler (1A)
David Backes (1G)
T.J. Oshie (1A)
Phil Kessel (3G)
Ryan McDonagh (1G)
Brooks Orpik (1A)
Colorado Avalanche forward Paul Stastny also receives the unfortunate distinction of garnering the only negative rating of the match by an American skater. So, yeah. Kudos to you there, Paul.
Slovenia's lone marker would come via Marcel Rodman, a former 2001 draft pick of the Boston Bruins who currently plies his trade for the Schwenninger Wild Wings of the German DEL. David Rodman would notch an assist on his brother's tally, along with forward Jan Urbas. Starting in net, the 20-year old Gracnar blocked away 18 of 23 shots, good for a .821 save percentage.
Following their most recent Olympic success, the Americans-victors of Group A-received a direct bye into the quarterfinals, earning a three-day respite before continuing along the path to Olympic gold.