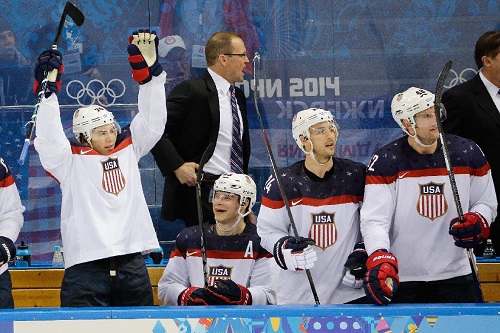 Team USA continued its dominance in its Quarterfinals match-up against the Czech Republic. Coming off several days rest, Team USA was very physical and never gave up on plays. The U.S. would defeat the Czech Republic 5-2. Jonathan Quick made 21 saves in the win.
Team USA did not waste any time getting on the scoresheet. Less than 2 minutes into the opening frame, James van Riemsdyk found the back of the net, beating Ondrej Pavelec short side to go up 1-0. Patrick Kane and Ryan Kesler assisted on the goal. The Czechs would respond back minutes later. Ales Hemsky found the puck amongst a wild scramble in front of the net. Hemsky's shot went top shelf to beat Quick and it was 1-1.
The Americans were not done scoring in the 1st period. Dustin Brown took a pass from Ryan Suter who had a wide-open side of the net to beat Pavelec and take a 2-1 lead.
Hard work definitely pays off. It is important to play hard and never stop until the whistle blows. David Backes beat Pavelec with 2 seconds left to give the USA a 3-1 lead. The U.S. held a 9-7 shot advantage after the 1st period.
In the 2nd period, the U.S continued to play a physical game. Players were finishing their checks and clogging up lanes. This made it very difficult for a veteran Czech team. A Czech penalty allowed the U.S to go on the power-play. The Red, White, and Blue would not disappoint. Zach Parise found the back of the net after taking a pass from Kevin Shattenkirk to go up 4-1. Pavelec was pulled for backup Alexander Salak. Pavelec allowed 4 goals on 12 shots.
Phil Kessel continued his mean streak of scoring. Ryan Kesler fed a streaking Kessel who made it 5-1. Hemsky got his second of the game with 7:00 min left in the period. Hemsky skated down the ice and stickhandled his way into the U.S zone. He fired his shot that beat Quick over his shoulder to make it 5-2.
The United States will move on to the semis as they will look for revenge of their 2010 Vancouver Games loss to Canada. Canada had a difficult time against Latvia as they only won 2-1 and they took 57 shots.