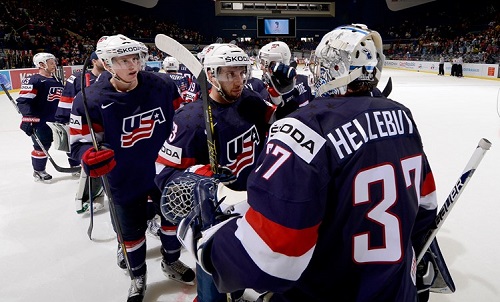 Two more of these. I've got at least two more of these, tops…what the hell did I just say…
At any rate, let's ignore my brief lapse into dementia and focus on the task at hand, shall we? About a day ago (I SAID MY CLOCK'S EARLY 'CAUSE I KNOW I'M ALWAYS LATE), quarterfinal action shifted into top gear at the 2015 IIHF World Championships, as eight teams vied for a semifinal berth. Kicking things off, Team USA took the ice against Team Switzerland-Group A's fourth seed-in a match-up showcasing NHL talent on both benches. Matching up in net, American stalwart Connor Hellebuyck squared off against the Swiss' Reto Berra; through one period of play, however, it would be the Colorado Avalanche understudy holding the advantage, protecting a one-nil lead after a sensational individual effort by Nashville Predators' rearguard Roman Josi propelled the Swiss Army (huehuehueheheuehue) out front.
Halfway through the second frame, the Americans found their mark, equalizing through a Ben Smith one-timer from between the hashmarks. In spite of being outshot twelve-to-seven, Team USA broke the deadlock less than a minute later; receiving a pass from Anders Lee at the blue-line, defenseman Seth Jones pivoted to his forehand, cranking a slapshot towards a cluster of traffic in front. This time, Charlie Coyle-late addition to the American roster following the Minnesota Wild's playoff exit-found twine, fighting through his mark, deflecting Jones' effort glove-side past Berra and capping an otherwise clean period of play from both teams.
With their backs against the wall, the Swiss were unable to bail out their beleaguered netminder, conceding attempt after quality attempt in a crucial third period of play. Forced into making a handful of impressive saves, Reto Berra could only watch helplessly as his teammates failed to capitalize on two power-play opportunites, sandwiching another American tally. At 10:33 of the period, Jake Gardiner absorbed a feed from an active Charlie Coyle, walking the blue-line before uncorking a wrist-shot that flew past a screened Berra for his third goal allowed of the contest. Responsible for the screen, Anders Lee recorded his second helper of the night, notching the hockey assist on the goal that all but sent the Americans through to the semis.
Sealing their two-goal victory, Team USA booked a date with top-ten scorers Yevgeni Dadonov, Artemi Panarin and the high-flying Russians. Owners of the third-highest scoring offense of the group stage, Team Russia disposed of Sweden in a 5-3 slugfest, creating a Group B rematch that will pit fire against ice, a prolific offense squaring off against a stout American defense second only to the Finns in preventing goals.
Saturday. May 16th. Sometime in the morning because I don't really understand how time zones work. BE THERE (because odds are I probably won't be able to watch it so yeah peep that ish fam).
Love Reading About Hockey?

Subscribe to keep up-to-date with the latest and most interesting hockey news!
| | |
| --- | --- |
| | We hate spam just as much as you |