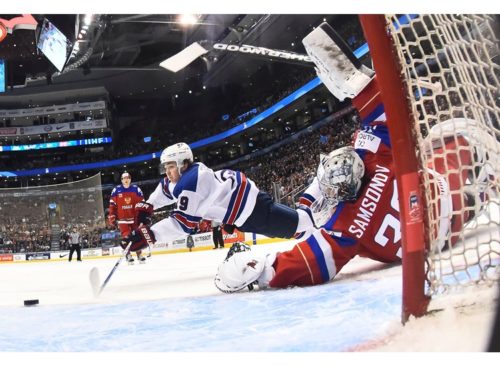 After the first 20 minutes of Thursday's match against Russia at the 2017 IIHF World Junior Championships, the United States carried a tie into the intermission.
Despite jumping ahead early and tripling the Russians on the shot clock, the Americans couldn't take the lead. Goaltender Ilya Samsonov kept his team in the thick of it, enabling forward Kirill Urakov to knot things up at one.
The USA needed a break. And who better to create one than their co-leading goal scorers?
Riding a two-point effort from Arizona Coyotes' prospect Clayton Keller, the Americans surged forth in the second period, scoring twice and holding on to preserve a 3-2 victory over Russia.
From the opening puck drop, Keller set about powering the American attack. Opening the game's scoring, the 5-foot-10 forward received a cross-ice feed from Casey Fitzgerald before cutting towards the slot. Deking both a defenseman and the goalie to the ice, Keller backhanded the puck as he was falling to the ice, giving the Americans a 1-0 lead 4:14 into the contest.
The Russians were quick to answer — Urakov, a product of the KHL, scored at 11:59 of the frame.
However, despite being outshot 11-6 in the second period, Team USA made the most of its chances. Just under five minutes into the frame, 2015 first-rounder Colin White tapped a massive reflection into a yawning cage for the team's third power play goal in as many games. Seven minutes later, University of Denver winger Troy Terry scored the game winner, converting a sharp-angle deflection for his second of the tournament.
But Team Russia wasn't going down without a fight.
Halving his team's deficit, Russian captain Kirill Kaprizov bagged his fifth goal of the competition with less than three minutes to go in the period. With Charlie McAvoy serving a minor for interference, the 5-foot-10, 192-pound forward cracked the United States' middling penalty kill, chopping a Yegor Rykov wrister from the point past Tyler Parsons.
Both teams kept up the pressure in the third, combining for 23 shots. But, ultimately, the Americans would weather the storm, killing an early Erik Foley boarding penalty and holding on for the win.
Perfect through its first three games, Team USA sits second in Group B, trailing the Canadians on goal differential. Come New Years Eve, they'll have a chance to pull ahead — the Americans will square off against their neighbors at the Air Canada Centre with round robin supremacy at stake.