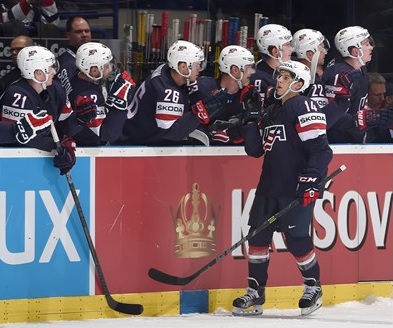 Guess who's back? Back again? I really should work on this whole extended absence thing.
As my dad and I completed the hours-long trek from my college campus home to the sunny confines of South Florida, another American contingent ran train over their opposition; lighting up the CEZ Arena, Team USA took it to 2014 runners-up Finland in a lopsided 5-1 victory. Squaring off in the Czech city of Ostrava, the youthful Yanks bested an experienced Finnish squad, coasting to victory on the wide shoulders of AHL All-Star netminder Connor Hellebuyck (can the Panthers trade for him, or nah?).
Sluggish out of the gates, the Americans leaned on Hellebuyck, a former fifth-round pick of the Winnipeg Jets (SHOUTS OUT KAYLEY), early and often to bail them out of trouble. As his team was outshot 14-11 in the opening frame, the St. Johns IceCaps' keeper held the fort, standing tall during a period that saw two Finnish power plays thwarted; he would log a .967 Save Percentage for his efforts. Steve Moses-former University of New Hampshire forward turned Jokerit sniper-landed the counterpunch for Uncle Sam, his backhanded effort going bar-down over Pekka Rinne to give the Americans a lead with seconds remaining in the frame.
Working with an advantage, captain Matt Hendricks' squad put together a solid effort in the second, outshooting Suomi nine-to-eight and extending their lead to two over their European competition. Responding to a tying effort by Dallas Stars rearguard Jyrki Jokipakka, Hendricks latched onto a Dan Sexton rebound, slotting past the Nashville Predators' Rinne to reopen the gap to a lone marker. Less than three minutes later, Sexton-another KHL marksman claiming American citizenship-found himself in the other column of the scoresheet, firing a wrister from the halfboards into the far-side corner of the net. Hendricks, screening Rinne, notched a secondary helper on the play, with the mobile Torey Krug recording the primary assist.
With their adversary on the ropes, Nick Bonino landed a haymaker early, pouncing on a loose puck in the blue paint that squirted through Pekka Rinne; Steve Moses and Brock Nelson would both record their second points of the night. After exchanging penalties during the heart of the stanza, Hendricks would ice the cake, potting an empty-net goal with 2:38 remaining and underlining an emphatic win for the American delegation at the 2015 IIHF World Championships.
The Red, White and Blue take the ice next on Saturday, where they will face a reeling Norwegian side handed a fresh 6-2 shelling at the behest of the Russians. This means one of two things: I'll either A) have to write up another recap of a landslide American conquest, or B) have to write up a summary of a massive underdog victory because HELL YEAH NORWAY FJORDS AND FROZEN AND SH*T. My allegiances between my homeland and my soon-to-be-adopted-for-a-semester homeland are in a state of strained that I hadn't anticipated…At any rate, go to bed, I'll see y'all tomorrow.
Love Reading About Hockey?

Subscribe to keep up-to-date with the latest and most interesting hockey news!
| | |
| --- | --- |
| | We hate spam just as much as you |