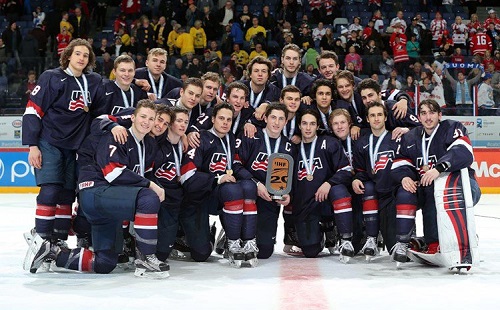 Congratulations, Rikard Gronborg: You played yourself.
While the United States' eight to three drubbing of Sweden may stand out as the compelling storyline of Tuesday's IIHF World Junior Championships bronze medal game, the responsibility for a solid chunk of that result may rest on the shoulders of Sweden's head coach.
In a perplexing tactical move, Gronborg benched goaltending sensation Linus Soderstrom–a 2014 fourth-round pick of the New York Islanders and a tournament top-five netminder in saves made, save percentage and goals against average–giving the nod to unproven reserve Felix Sandstrom.
In any other game, the swap wouldn't have mattered. But in a third-place match-up, hardware on the line, against the competition's second-highest scoring offense? Puzzling.
Spearheaded by triple braces from forwards Matthew Tkachuk, Anders Bjork and Ryan Donato, the high-flying American attack absolutely shelled the Swedish crease to the tune of eight goals on 29 shots. 12 different skaters contributed at least a point to the 21-combined-point effort, handily securing the United States' first medals in two years.
The Americans shot out of the gates, giving stalwart goalie Alex Nedeljkovic a two-goal cushion to work with before the first period was out. The Swedes, however, stormed back before the frame's close, with William Lagesson and Carl Grundstrom thundering a two-goal salvo in the final five minutes of the first to knot things up.
A forceful second period by Team USA all but ended the game. Barraging Sandstrom's cage with 16 shots, Brock Boeser, Donato, Bjork and Brandon Carlo all notched even-strength goals to cleave open a four goal gulf. Two more third period goals from Donato and Tkachuk gave the Americans six unanswered goals, a last-gasp effort from Axel Holmstrom the only feeble response a demoralized Swedish contingent could muster.
Bronze medals in tow, the Americans head home with the satisfaction of having turned in a solid tournament performance: Finishing second in scoring efficiency and first in penalty killing, team save percentage and team goals against average, Team USA complemented a predictably strong offense with a surprisingly stout defensive game.
Leading the scoring charge, Auston Matthews and Tkachuk tied for the team lead with 11 points apiece, good for a fourth-place tie in overall tournament standings. Matthews paced the squad with seven goals scored, while Tkachuk, Sonny Milano and Zach Werenski all posted six assists, good for the team lead and a three-way tie for sixth in the competition.