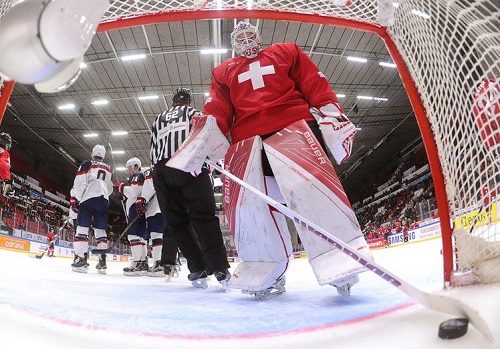 What better way to cure a post-shutout hangover?
Days after a heartbreaking 1-0 loss to Team Sweden, the United States of America resumed their preliminary schedule at the 2016 IIHF World Junior Championships, taking on Switzerland at the Helsinki Ice Hall.
Fresh off of a narrow shootout defeat to the Canadians, Switzerland required a miracle to avoid the relegation round: In order stay afloat, the tired Swiss–playing their fourth game in five days–needed to emulate the jump that propelled them to a two-goal first period lead over Canada 24 hours earlier.
They couldn't find it.
Peppering Joren van Pottelberghe's net with 14 shots in the first frame, the Americans chased the Swiss netminder a mere 15:10 into the contest. Five goals–courtesy of Christian Dvorak, Auston Matthews, Brandon Carlo, Zach Werenski and Matthew Tkachuk–relegated the Linkopings HC product to the bench, with Swiss boss John Fust turning to understudy Ludovic Waeber in a feeble attempt to stem the offensive tide.
Before the period was out, Chicago Blackhawks' prospect Nick Schmaltz cleaved the gap open to six, all but burying the opposition in the first 20 minutes of play. Shockingly, however, it was the Swiss who kicked off the scoring in the second, with Timo Meier punishing the Americans for sloppy defensive zone play and opening his tournament account.
The American response was immediate: 46 seconds later, Tkachuk notched his second, completing the brace and reopening the flood gates to the tune of four goals. Also scoring for the United States were Matthews, Colin White and Ryan Donato, the latter's unassisted tally bringing the final American total to a whopping 10.
With the game out of hand, American coach Ron Wilson substituted Brandon Halverson for starting goaltender Alex Nedeljkovic midway through the second period, awarding the back-up his first minutes of the tournament. He wouldn't disappoint, carrying a personal shutout for the final 31:51.
When the dust finally settled, 11 American skaters recorded a point, with seven posting two or more. The offensive eruption resulted in a combined 24 points, with Matthews' four off of two goals pacing the team and earning him Player of the Game honors.
Following the victory, Team USA sits second in Group A, pilfering six points of a possible nine through three games. A tilt against fourth-placed Denmark awaits tomorrow, with a victory eliminating ensuring passage to the tournament's elimination round and, in the process, eliminating Team Canada from championship contention.