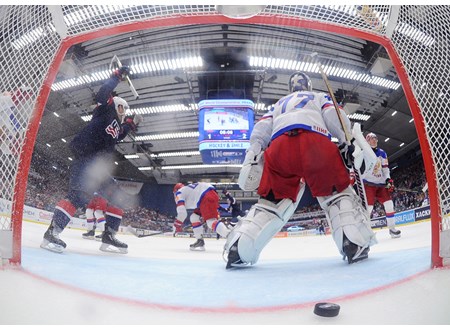 Ok, you absolute beauties, here's the low-down: it's past midnight, I may or may not have rowing practice in five hours, and I'm helping a friend move out of her apartment in exchange for free breakfast because The Motherf***ing Flying Biscuit Cafe, that's why. MACH 5 GAME RECAP GUNNIN' STRAIGHT FO' YO' DOMEZ, HOMEZ.
In a tight-checking game where shots were at a premium, Team USA prevailed over their Russian counterparts, wresting control of Group B with a convincing 4-2 victory. Pit against the Red Machine at the CEZ Arena, Mark Arcobello's third-period tally proved vital in securing three points against a squad boasting such talent as Evgeni Malkin, Ilya Kovalchuk and Dmitry Kulikov (GOOOOOOOOOOAAAAAAAAAAAAAAAAAAAAAAAAAT [b/c Panthers]).
Head coach Todd Richards opted to shake things up in the cage, handing a start to Dallas Stars' system goalie Jack Campbell in lieu of the iron curtain that is Connor Hellebuyck. Lining up opposite former Vezina Trophy winner Sergei Bobrovsky, the former 2010 first-round pick turned in a goalless first-period, allowing his compatriots to edge to a 1-0 lead on the strength of a Trevor Lewis goal 6:22 into the frame. Seth Jones and Jack Eichel notched assists on the change-up marker, a football-esque (like, real football, not hand-egg) lobbed effort that floated over Bobrovsky's catching glove and into the twine.
Punched in the figurative mouth by an early Anton Belov equalizer, Uncle Sam's favorite hockey-playing sons once again seized the upper hand in the front half of the second frame, this time through a Torey Krug wonderstrike on a two-man advantage. The short-side, sharp-angle snipe came courtesy of a helping hand from the aforementioned Jones, with Carolina Hurricanes' rearguard Justin Faulk opening his tournament scoring account by scoring the secondary assist.
Save for a late period penalty kill, mum was the word for the rest of the second, with the Americans mitigating any damage stemming from a late Zach Redmond holding call. Hanging to a one-goal lead, the Arizona Coyotes' Arcobello gave Team USA some breathing room at 11:52 of the third; jumping on a loose puck after Jimmy Vesey and Yevgeni Medvedev cancelled each other out along the boards, the diminutive forward ran through the six with his woes, delivering a wristed missile past Bobrovsky that would make Drake cry tears of-oh wait, that probably wouldn't take much, anyhow. Following a Sergei Plotnikov goal that clawed the lead back to one, the American defense held the fort, denying the Russian attack until Brock Nelson sealed the deal with an empty net goal. Anders Lee, New York Islanders forward, secured the helper on the play, giving him his first point of the tournament after three games played.
With three wins under their belts in four days, the Americans head into a merited two-day vacation riding a surge of momentum. The Red, White and Blue face mid-table Belarus Thursday afternoon in Ostrava, looking to tighten their grip on the number-one seed. Ladies and gentlemen, we have ourselves a tournament.
PS-Sorry, Drizzy.