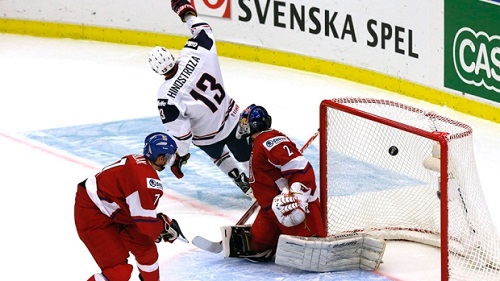 It's a good thing Andrew Copp decided on hockey over football, because the line of Matteau-Copp-Fasching was instrumental to Team USA's 5-1 defeat of the Czech Republic in their tournament opener today. The line factored on 2 of the team's 5 goals and Copp was vital to the team in the faceoff circle. Matteau was named Player of the Game for the US.
The US got off to a quick start in the first period, capitalizing on two power plays in a row. Captain Riley Barber and Will Butcher were the goal scorers. Barber's came at 1:21 on a bad-angle shot that he made look as simple as breathing; Butcher's, at 2:02 off a beautiful pass from underager Jack Eichel. Unfortunately for the US, the Czech goaltender Dolejs played much better in the later part of the period, absolutely robbing players like Adam Erne.
The second period started with a push from the Czech team, but the momentum definitely shifted after the US killed off the tripping penalty to Connor Carrick. Nic Kerdiles and Brady Skjei were standouts on the PK – the last 42 seconds of the kill were spent in the Czech zone, and they managed zero shots against US goaltender Jon Gillies. Shortly after the penalty kill ended, Hudson Fasching knocked in the rebound of a hard Andrew Copp shot at 9:23, exhibiting once again the energy and drive the Matteau-Copp-Fasching line brings to this US team. Jaccob Slavin made it 4-0 at 17:03 to round out the period when he tipped a Zach Stepan deflection of a Brady Skjei shot.
The Czech team got on the board in the third with a power play goal from Plutnar after Stefan Matteau was sent to the box for slashing. From that point out the US refused to allow the Czechs to close that gap any further, despite the loss of Zach Stepan, who went down the tunnel holding his lower back. Though the the Czech team was more engaged at this point of the game, Jon Gillies saved every shot that came his way. Vince Hinostroza scored on a breakaway at 17:49 to seal the game.
The US team's offensive pressure didn't let up the entire game, holding a 33-24 advantage in shots on goal, and contributions came from all over the ice. Andrew Copp went 12/18 in the faceoff circle; Jack Eichel, 10/15, which greatly helped with puck possession. The power play was 2-for-3 against the Czechs; if the US can sustain that, it will help them greatly in their attempt to defend their gold medal title from last year. Another key will be for the US defense to remain as involved in all aspects of play as they were today.
The next US game is Saturday, Dec. 28th against Slovakia. Puck drop is at 7:30 am EST.