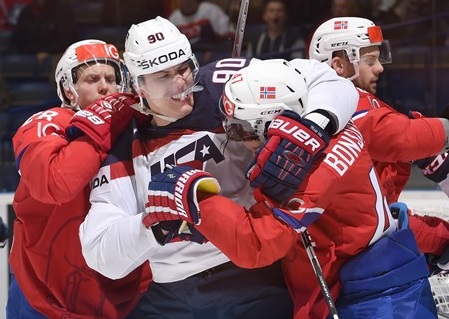 So, apparently, this was one hell of a tilt, but thanks to a lovely little thing called geo-blocking, the lovely folks over at the IIHF forbade me from viewing this game in a legal manner that wouldn't give my laptop virtual chlamydia. Ergo, I wasn't able to watch it, because who wants chlamydia? Thanks, Obama. THANKS A LOT.
Rants aside, the United States-fresh off of a resounding upending of the Finns-took the ice on Saturday with the winds of momentum at their sails; squaring off against another Scandinavian opponent, the Americans were able to come away with a 2-1 victory against a plucky Norwegian side, one that jumped out to a surprising lead in the first frame. Shaken by their resounding defeat to the Russians, Norge understood the importance of laying down a strong foundation from the get-go to avoid another decimation at the sticks of an international hockey powerhouse. And did they ever come out swinging; quite unlike Floyd Mayweather, the Norwegians flew out of the gates, taking the fight to the Yankees and outshooting them 13-10 in the first period, instead of RUNNING AROUND THE RING AND THROWING BITCH-ASS JABS ALL NIGHT LONG.
Morten Ask, Norway's first-line winger, broke the ice a little over six minutes into the contest, pouncing on a kick-save rebound and depositing past a sprawling Connor Hellebuyck. Providing an emphatic response, Los Angeles Kings forward Trevor Lewis knotted things up minutes later; Justin Faulk streaked into the Norwegian zone, firing a shot at netminder Lars Haugen. Catching him in the breadbasket, the HC Minsk goaltender failed to control the rebound, allowing Harvard forward Jimmy Vesey to maneuver through a thicket of Norwegian defenders and slide a backhand pass to an open Lewis on the back post.
With the game tied at one, the Americans upped the ante, countering Norway's first period effort with a salvo of their own. With a 16-7 shot advantage, it was Brock Nelson's turn to play spoiler; deflecting a Torey Krug shot from the point, Nelson left a Jack Eichel-screened Haugen no chance to react, breaking the deadlock and gifting the Americans a lead that would prove unassailable. Trevor Lewis picked up his second point of the night on the play, recording the hockey assist. From there on out, the Americans populated the highlight reel, unable to solve a heroic Haugen for a third time on the night. Both goaltenders were prolific; the American Hellebuyck-stopping 22 of 23 shots on goal-posted a .957 Save Percentage for his 60 minutes of work, with his Norwegian counterpart Haugen turning aside 33 of 35 attempts for an equally impressive .943.
Unfortunately, there was a blemish in the silver lining of this American victory, coming in the form of an injury to diminutive scorer Steve Moses. Floored by a devastating open-ice check, the Nashville Predators' signee was separated from both the puck and his helmet by Ole-Kristian Tollefsen's hit. Per the IIHF's official write-up, head coach Todd Richards had no update to offer on his star forward's status.
Sitting pretty in second place, Team USA has a massive case on its docket, slated to do battle with Group B leading Russia on Monday. If you love democracy, bald eagles and McDonald's, you best be rooting for the boys in red, white and blue; they have two players tied for the tournament scoring lead, and neither of them are Ilya Kovalchuk, for Christ's sake. One of those dudes is Yevgeni Dadonov. YEVGENI. DADONOV. As in former Florida Panther Yevgeni Dadonov, who's jersey I almost bought before he jumped ship to the KHL. I ended up getting a Jason Garrison jersey for Christmas. He then proceeded to also leave the Cats. Funny how things work out.