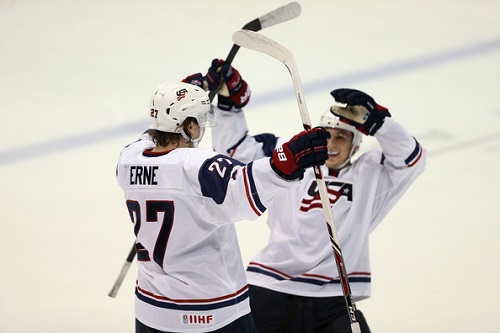 USA Hockey revealed their 26-man preliminary roster for the 2014 IIHF World Junior Championships this morning. Team USA will hold a training camp at the University of Minnesota's Mariucci Arena from December 15th to the 17th, and will play three games prior to the December 23rd release of their final 23-man roster: December 17th against Minnesota State University in Mankato, Minnesota; December 20th against Finland in Angelholm; and December 22nd against Sweden, also in Angelholm.
The roster can be found here on the USA Hockey site. It includes three returning players from last year's gold medal-winning team, goaltender Jon Gillies and forwards Riley Barber and Ryan Hartman, the first round pick of the Chicago Blackhawks this year; and surprisingly leaves off players like Michael McCarron and Cristoval "Boo" Nieves. Pat Sieloff, another member of last year's gold medal team, is playing in Abbotsford of the AHL this year, but will not be returning to Team USA as he is currently home in Ann Arbor recovering from a staph infection.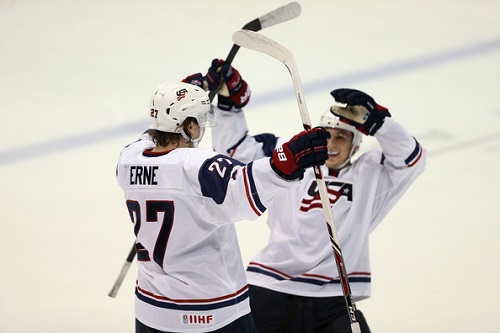 USA Hockey is notable for their use of college players, and this year's group is evidence of that. There are 19 NCAA players on the roster; the remaining 7 are made up of 3 OHL players (forwards Tony DeAngelo of Sarnia and Ryan Hartman of Plymouth, and goalie Anthony Stolarz of London), 2 AHL players (forwards Connor Carrick of the Hershey Bears and Stefan Matteau of the Albany Devils), and one player each from the WHL and QMJHL (forwards Henrik Samuelsson of the Edmonton Oil Kings and Adam Erne of the Quebec Remparts).
The tournament will be played in Malmo, Sweden, from December 26th, 2013 to January 5th, 2014.