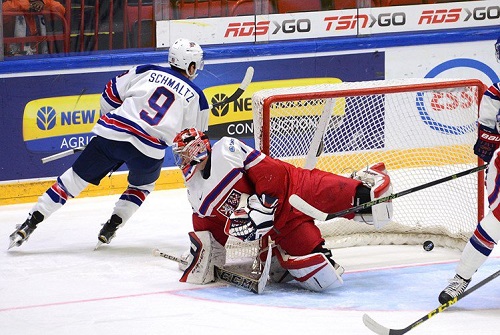 As the warrior-poet Drake once muttered before demolishing Meek Mill's rap career: "OH MAN. OH MAN, OH MAN."
In the fourth and final matchup of the 2016 IIHF World Junior Championships' quarterfinal stage, the United States of America sleepwalked through their contest against an overwhelmed Czech Republic squad, utterly humiliating the opposition by a final score of seven to nil, the most lopsided victory of the still-nascent elimination portion of the tournament.
Players and fans alike are well aware that offense is arguably the American's strongest point of play: To this point in the competition, they have scored less than four goals only once, and their septuple burst of firepower served to entrench both their reputation for fireworks and four skaters in the tournament's top-ten scorers list. Contributing in the blowout were:
For all of their offensive antics, though, the American defense has performed at a superlative level. Anchored by Carolina Hurricanes' second-rounder Alex Nedeljkovic in net, the defensive corps has held opponents to two goals or less in all five of their games to date, with the goaltending tandem of Nedeljkovic and Brandon Halverson combining to post a tournament-best .9593 Save Percentage. Grinding down the opposition's attack, team captain Zach Werenski and his charges operate the third-best penalty kill in the competition, all the while holding their adversaries to 1.00 Goals Per Game, tops in the tournament.
In this particular game, the Americans got to Czech goaltender Vitek Vanecek early and often, tallying twice on ten shots. Looking to shake things up, head coach Jakub Petr substituted understudy Ales Stezka in net, only to watch as the Americans bombarded the green netminder in his first action of the tournament. Sandwiching a three-goal second period in between a two-goal first and third, Auston Matthews' second period brace put the game well out of reach for the Czechs. Completing the hat trick, Matthews' third-period tally was just another drop of water in an already overflowing pail.
Heading to the semifinals, Team USA is set to do battle against a Russian squad nearly upset by fourth-seeded Denmark. Puck drop is slated for Monday, January 4 at 10:00 GMT +2: Skates will hit ice at Helsinki's Hartwall Arena.