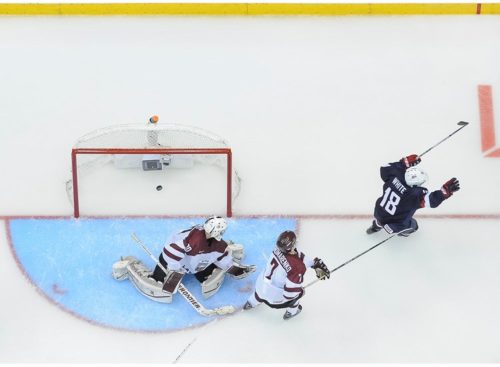 For a team that wasn't at its best, the United States still managed to open the 2017 IIHF World Junior Championships with a statement.
Led by Boston University forward Clayton Keller's two-goal effort, the Americans cruised to a 6-1 win over Latvia on Monday at the Air Canada Centre.
However, it wasn't all smooth sailing — skating against a Latvian side that was making its first appearance in the top-flight tournament since 2013, the United States played its opponent to a 1-1 draw at the end of the first period.
After 5-foot-9 forward Patrick Harper gave them a one-goal lead, the Americans failed to register a shot on net in the final ten minutes of the frame. Oshawa Generals' winger Renars Krastenbergs would make them pay, slipping the puck past goalie Tyler Parsons with 4:38 remaining.
"We had a few days off before this game," forward Colin White said in a release, "so it took us a bit of time to get our legs going."
They got going soon enough. And when they did, the Americans proved too much for the overmatched Latvians.
Outshooting Latvia 23-10 in the final 40 minutes of play, the United States went on to score five unanswered goals. Assistant captain White and linemate Tage Thompson combined for four points in the second period alone; the former notching a goal and an assist, the latter dishing two helpers.
Keller also knifed home his first of two goals on the night, crashing the net and lifting a rebound over the right pad of an outstretched Mareks Mitens.
The Americans followed up their two-goal effort with a three-score burst in the third period. Leading things off, Keller pickpocketed Latvian defenseman Karlis Cukste in the offensive zone before peeling towards the slot. His wristed effort blew past Mitens' glove hand, giving the United States a three-goal advantage.
By the time both teams headed off to the locker rooms, Jeremy Bracco and Player of the Game Jordan Greenway would find twine, giving the Americans the most lopsided win of the tournament.
The United States will continue round robin play on Wednesday, when they face off against Slovakia.