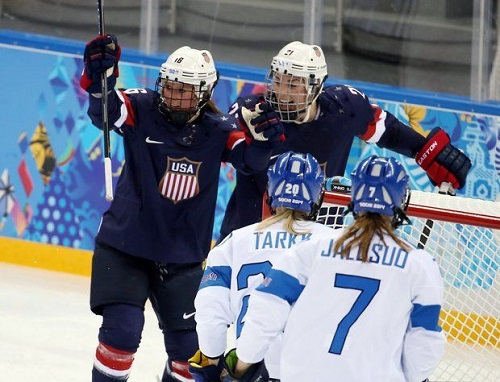 Taking last night off from the Opening Ceremonies to rest up for today's opener against Finland proved to be the correct decision for the US women's hockey team as they beat Finland 3-1 today in the opener of the women's hockey tournament. Katey Stone's choosing to start Kelli Stack, Hilary Knight, and Alex Carpenter would prove oddly prophetic, given that the three US goals would be scored by those three women.
Hilary Knight opened the scoring (the first hockey goal of the Games!), making it 1-0 with a wicked wrister off of a neutral zone takeaway 53 seconds into the first period. The goal was made possible by Amanda Kessel pressuring in the neutral zone, causing a Finland turnover, and Knight wristed the puck past Raty blocker-side.
Kessel managed a good chance in the middle frame, dangling right past a Finnish defender and shooting top shelf, but Raty, one of the best goaltenders in the world, easily made the save. 7:42 into the second, though, the US doubled their lead when Kelli Stack, the USA's leading scorer in the pre-Olympic tour, scored from the edge of the crease, batting the puck right out of midair after it hit her. The goal went to video review, but it stood, and the US took a 2-0 lead. They extended that lead even farther when, at 15:59, Anne Schleper shot from the point and bounced the puck off the end boards, allowing Alex Carpenter to backhand the puck off Raty from a nearly impossible angle and put the US up 3-0.
Kessel got yet another chance midway through the third period and was easily denied by Raty yet again, causing Kessel to look to the sky in frustration. A hooking call on Brianna Decker allowed Finland's Susanna Tapani to finally put one behind Jessie Vetter, ruining Vetter's bid for a shutout and putting Finland on the board with 4:38 left in the period.
In the end, however, the USA held on to their lead and defeated the Finns 3-1, holding a 43-14 lead in shots on goal. As good as it must have felt to open the tournament with a win, though, the US team is not getting cocky or underestimating any of their opponents. Head coach Katey Stone said after the game, "We believe very strongly that this is a world event that anyone can win."
But you can bet they want to be the ones to do it.