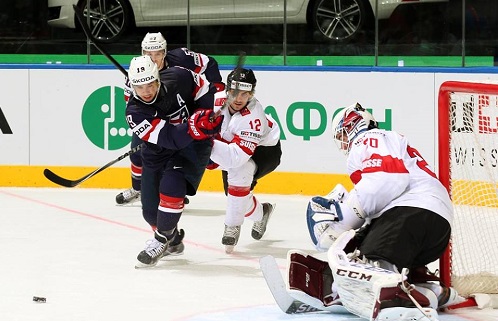 Team USA found little time to rest or celebrate after routing host nation Belarus 6-1 in their opening game of the 2014 Ice Hockey World Championship. Switzerland too didn't have much time to rest after losing their opening game 5-0 to Russia. Both teams were in the midst of a back to back first two games to open the tournament. USA was looking to remain perfect meanwhile Switzerland wanted not only to score their first goal of the tournament but also get back in the thick of things by picking up a win and crucial points.
It was clear from the opening minutes that Switzerland was the hungrier team to start the game. However, just like in their first few minutes of the opening game against Belarus, Team USA hang tough and delivered their own chances up and down the ice. After a scoreless first period, Switzerland went right back out and responded with the game's first goal only 1:28 into the second scored by Denis Hollenstein. Switzerland was even given an opportunity to further extend their lead but right as Team USA's penalty expired, Peter Mueller rushed out of the box and recieved a pass from Tim Stapleton going on a breakaway any knotting up the game at a goal a piece.
Switzerland would respond by taking a 2-1 lead on a goal from Damien Brunner halfway into the second period. After two periods, Team USA found itself trailing by a goal and knew they would have to play their best twenty minutes to come out with points from the game. Just like Switzerland scoring the first goal of the game 1:28 into the second period, Team USA's Craig Smith knotted the game at two 1:28 into the 3rd period. Then Tyler Johnson lifted USA with the go-ahead goal with just under seven minutes to go in the game. Switzerland had the unfortunate of having two off-sides called late on them to take away not one but two goals that were deemed non-goals due to the late ruling of the offsides.
In the end Tim Thomas stood tall making 27 of 29 saves including a last second glove save to give Team USA a perfect 2-0-0-0 start to the tournament. While Reto Berra made 35 of 38 saves as Switzerland suffered their second straight loss in as many days. Last year Switzerland was undefeated through the tournament before losing in the golden game. With the win, USA now has six points and sits atop the B group for now. Meanwhile Switzerland will once again have to regroup and look forward to their next game where they will need to pick up points if they plan on making the playoffs for this tournament.