Thomas Vanek and the rest of the Sabres were a bit more anxious this season than any other in recent memory. This was due to the fact of a shortened training camp and only having a one week to mesh with line mates. However, Vanek and fellow winger Jason Pominville have played on a line together for several years, going all the way back to their AHL days in Rochester.
Vanek had a career best 5 points (2g-3a) and Jason Pominville chipped in 3 assists as the Sabres bullied the Flyers with a 5-2 score in the home opener. Newcomer Steve Ott scored the first goal of the game on the power-play. Poiminville and Vanek had the assists on Ott's goal.
In the 2nd period, Philadelphia came storming back as Sea Couturrier and Calude Giroux(PP) scored quick goals to make it 2-1 Flyers. A Luke Schenn penalty helped the Sabres to have the man advantage. Vanek took a nice pass from Pominville and beat Ilya Bryzgalov to make it 2-2.
In the final frame, it was all Sabres. Another Flyers penalty lead to another Sabres power play goal, this time D Tyler Myers taking a wrist shot above the face-off circle to make it 3-2. Little more than a minute later, Bryzgalov made a partial break-away save on Vanek but Cody Hodgson was there to put the rebound in to make it 4-2. Vanek would later put in an empty-net goal. "We had a good week of practice" Vanek said, and "scored timely goals".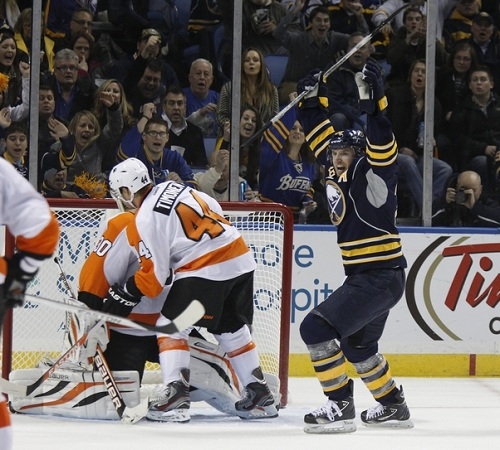 Ryan Miller was stellar in net, making several critical saves and finished with 27. Miller was happy with his team's performance and the Sabres will travel to Toronto to face the Leafs Monday at 7:00
Game Notes
The Sabres had 3 power-play goals and were 3-6 in the game. (Great way to start the season)
They beat the Flyers for the first time since the 2010-2011 season (0-3-1 in 2011-2012)
Rookie Mikhail Grigorenko played 11:13 and had 2 shots on net.
Vanek set a new game best of 5 points, it had been 4 points which he has done 4 previous times.
GM Darcy Regier has been extended by the team and will remain in his current role.