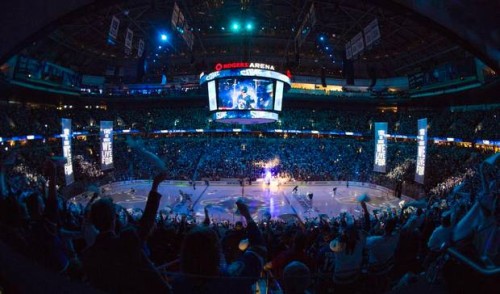 CANUCKS SEEMED DESTINED FOR NHL PURGATORY
Given the offseason and makeup of the current roster, the Vancouver Canucks appear to be in a tough spot this year. I don't think this team is good enough to make the playoffs and yet not bad enough to be a serious contender for a lottery pick in the draft. This is what I define as NHL purgatory; the teams that finish 9th -10th in the conference standings. It's pretty much the worst outcome a team could face as you don't reap the rewards of making the playoffs and you're most likely not going to end up with a high draft pick which will make drafting a great player tougher. Unfortunately that's where I see Vancouver finishing this year in an extremely tough Western Conference. Here's a breakdown of the roster for this season.
THE BACK END
Goaltending is key when it comes to team success for almost every team and a great goaltending performance can potentially cover up holes in the roster. Ryan Miller will have to be great this season if Vancouver is to make strides and really make a push to be a threat in the West. The 6'6" Jacob Markstrom will draw the back up duties and is a very capable second option to Miller. Unless Miller returns to his 2010 form the goaltending will be middle of the pack at best.
The defence is decent with no great impact players on the backend and will suffer from the loss of Kevin Bieksa. Fortunately they do have depth which is a positive given the fact that the coaching staff like to roll the lines and keep playing time relatively equal. They added Matt Bartkowski from Boston to go along with Alexander Edler, Dan Hamhuis, Lucas Sbisa, Chris Tanev and Yannick Weber who are all returning from last season. Without a number 1 defenceman they will ask for a defence by committee to shut down some very good teams in the division and the conference. The depth is encouraging but without a defenceman to consistently lean on this D core is also a middle of the pack group.
PROJECTED NHL RANK: 13-17
THE FRONT END
The forwards have quite a few aging core players led by the Sedins who are in their mid 30s to go along with Vrbata, Burrows and Higgins. They added another older forward when they dealt Zack Kassian to Montreal for Brandon Prust and will provide another scrappy tough guy to pair with Derek Dorsett. They lost Shawn Matthias and traded Nick Bonino to Pittsburgh for Brandon Sutter who has been slated to start the season on the wing with the Sedins. Along with these veterans will be a slew of youngsters who cracked the big clubs roster, including 2014 6th overall pick Jake Virtanen and 24th pick Jared McCann. Virtanen had an excellent pre-season and could be a welcome surprise this season. These rooks will join fellow youngster Bo Horvat, who played well in the playoffs last season and has the potential to be a top 20 player in the league in the near future. Virtanen and Horvat will be 2 players to watch for this season as they should be bright spots for this franchise in the future.
The big question for this group will be is there too big a gap in age and experience between the older players and the younger ones? There should be a regression in offence from the older players and can the youngsters contribute at a rate that will make this a formidable offence? Unfortunately teams with disparities like this have a tough obstacle to overcome and I think it will show over the course of the season for this team. Goals may be hard to come by at times and they may be in the bottom third of the league in scoring.
PROJECTED NHL RANK: 18-22
THE OUTLOOK
If the window for this team's core hasn't closed yet, it's barely open enough to get a draft from the wind. With some good, young, talented teams and an NHL that favours those attributes this Canuck team could finally be over their head with this group. This group is average across the board which will make them just under a middle of the pack squad over the upcoming season.
PROJECTED NHL RANK: 17-20
I Project the Pacific Division to be slightly different from last year, as Anaheim will win the division yet again with Calgary & Los Angeles taking steps forward that should knock the Canucks down within the Pacific Division to 4th, just ahead of San Jose and Edmonton with Arizona finishing way back.
The other division in the Western Conference, the Central, is absolutely stacked with at least six solid team and you can expect 5 playoff teams to come from this division. The good news for Vancouver is that with so many solid teams in one division they could end up beating each other up and taking points from one another which could allow a team like Vancouver to sneak in the playoffs. Unless that is the case NHL purgatory could very well be Vancouver's fate this season.
Love Reading About Hockey?

Subscribe to keep up-to-date with the latest and most interesting hockey news!
| | |
| --- | --- |
| | We hate spam just as much as you |