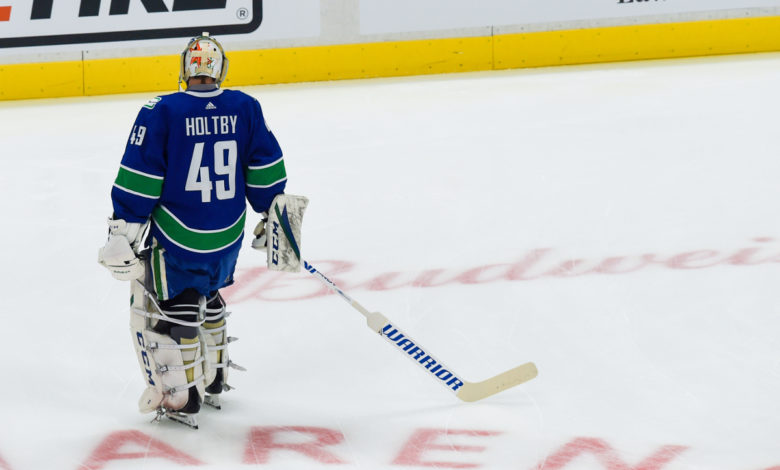 Former Capitals goaltender Braden Holtby will be an unrestricted free agent for the second time in three years.
Tuesday, Rick Dhaliwal reported that the Vancouver Canucks are buying the Holtbeast out of the final year of his contract, giving the team several million in salary cap savings a day before the start of free agency.
The Canucks finished dead last in the North Division last year, putting up a record of 23-29-4.
The #Canucks are buying out Holtby today per @DhaliwalSports. Has 1 year @ $4.3M Cap Hit ($5.7M cash) remaining.

Buyout costs $3.8M cash split over 2 years

Buyout:
Yr 1: $500K Cap Hit, $3.8M Savings
Yr 2: $1.9M Cap Hit/Costhttps://t.co/DGE56mfAl6 pic.twitter.com/pf5khLUqFi

— PuckPedia (@PuckPedia) July 27, 2021
The Canucks left Holtby unprotected in the Seattle Kraken Expansion Draft and have spent much of the offseason looking for a trade partner for the Vezina Trophy winner. But Holtby's salary next season ($5.7 million) and his cap hit of $4.3 million appears to have been much for other cap-strapped teams to take on without Vancouver retaining part of Holtby's salary, which they were unwilling to do.
The move will give the Canucks $3.8 million in cap savings for the 2021-22 season.
There are several teams reportedly trying to land the 2018 Stanley Cup champion, per Sportsnet's Elliotte Friedman, including the Colorado Avalanche, Toronto Maple Leafs, Buffalo Sabres, and Philadelphia Flyers.
Friedman on Holtby – They are having a tough time moving him because they wont give something up. There is interest in Holtby – Col, Tor, Phill, Buf.

— Rick Dhaliwal (@DhaliwalSports) July 26, 2021