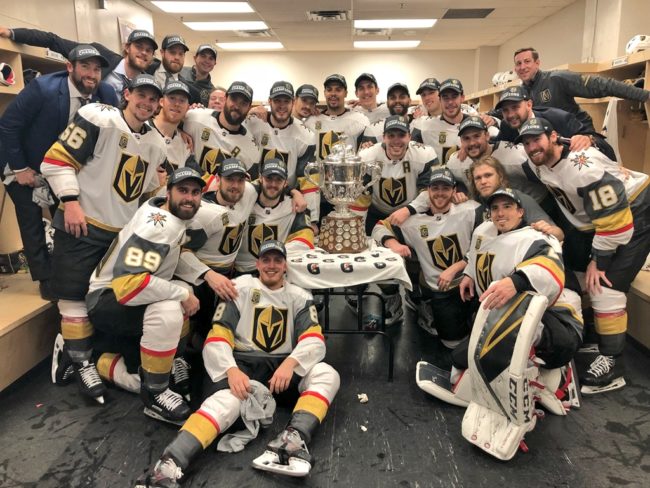 The Vegas Golden Knights have not only been dominating the NHL since the puck officially dropped in Sin City back in October, but Vegas has made historic strides that North American sports fans may never witness again.
The expansion franchise is less than one-year-old, and the club has found itself heading into the first weekend of June just three wins shy of becoming Stanley Cup champions. The Knights have arguably redefined the guidelines for what it means to be a successful team in professional hockey, but part of that winning formula has entailed Vegas not having an official team captain.
That's right; the Knights have been making all this loud noise and history without a skater donning the coveted captain's letter "C" stitched to one of those unique-looking Vegas sweaters.
So, if the Vegas Golden Knights were to win the Stanley Cup then the first skater to receive the trophy won't have a "C" on his jersey – one of hockey's rarest sights, ever.
Here are five players that could be Vegas' first captain in franchise history and as early as next season.
James Neal
While James Neal is currently set to become an unrestricted free agent (UFA) at season's end, Neal is an obvious candidate to be named Vegas' first captain in franchise history if he is re-signed come July 1. Given the Knights' current roster, only goaltender Marc-Andre Fleury rivals his uncanny veteran status and experience.
Real deal James Neal snipe 🔥 pic.twitter.com/7x0HaZ3hhz

— Daily Faceoff (@DailyFaceoff) May 31, 2018
Neal, 30, embraced being one of the primary faces for the NHL's expansion team and clearly led the Knights all season with his consistent play and composure on the ice. He's now skating in his second Stanley Cup final (back-to-back appearances; Nashville – 2017), and he'll be a key asset for all of the team's younger skaters who have already blossomed and risen to the occasion on one of the World's biggest stages.
David Perron
Forward David Perron was drafted back at the 2007 NHL Entry Draft with the 26th-overall pick by the St. Louis Blues. Now, over a decade later, the veteran finds himself as one of the expansion Golden Knights' top leaders and skaters.
Happy Birthday David Perron. He's hoping for a W in Game 1 as a present. pic.twitter.com/vgtujOCwaJ

— Kevin Bolinger (@KevinFOX5Vegas) May 28, 2018
Similar to Neal, there's that "if" factor in relation to Perron's status with the team. The 30-year-old will be an unrestricted free agent come July 1, and Perron is fresh off of a career-high 66 points (16G-50A) in 2018. If Vegas general manager George McPhee can find a way to lure Perron back in and afford him, then Perron could be crowned, captain.
Wishful Thinking & Honorary Mention
Marc-Andre Fleury
Hold your horses, Vegas.
We're all wishing and thinking it but, yes, it would be fitting to have goaltender M.A. Fleury named captain of the Vegas Golden Knights next season. The NHL doesn't allow for goaltenders to wear letters stitched onto their jerseys, but netminders have been "designated" as captains before in the past.
No matter the stakes, Marc-Andre Fleury is always having a blast. 🌸 #StanleyCup https://t.co/1KzHUlmMIF

— NHL (@NHL) May 31, 2018
Most recently, Roberto Luongo was named captain for the Vancouver Canucks back in 2008 and the title lasted until the end of the 2010 campaign. Luongo didn't have a "C" stitched to his sweater, but he did have one painted onto his goaltender's mask.
He's everything a team would want in a leader with his humble qualities, and his experiences and adversity are second to none.
Braydon McNabb
Teams can never go wrong with having a solid defenseman as their captain. That's what the Vegas Golden Knights have with the former Buffalo Sabres and Los Angeles Kings product in Braydon McNabb. After five seasons at the NHL level, McNabb appears to be ready to take on captaincy duties and would grow at the leadership position, while becoming the face of the franchise.
He's still developing as a player while growing as a leader alongside the organization that's blossoming and could pay dividends for all in Vegas. Giving McNabb the responsibility and honor could take his game to a whole another level and would be worth considering.
Keep in mind that McNabb is also under contract with Vegas (2.5 million AAV) until the end of the 2022 season.
Deryk Engelland
Most saw this one coming, but let's give credit where it's due. Deryk Engelland surprisingly panned out to be the true spokesman for the Vegas Golden Knights.
Engelland's background story is one of a kind, too. Most forget that he was drafted way back in 2000 by the New Jersey Devils in the six-round. It then took him eight years to climb his way up to the NHL level, and his past experiences have molded the 36-year-old into the leader that any new group of players and expansion franchise would want to lead its team; because, like them, he's somewhat new to all of this, too.
"We are #VegasStrong."#GoldenKnights defenceman Deryk Engelland addresses the home crowd. pic.twitter.com/OaykNFLiO9

— Sportsnet (@Sportsnet) October 11, 2017
Yet, the timing was right in the journeyman's career to become a top leader for an NHL franchise and one such as Vegas. He's set to become an UFA after the season, but the man who was nominated by his teammates to receive the Clarence S. Campbell Bowl after his Knights won the 2018 Western Conference Final, is a top candidate to become the team's first ever captain.
Tweet your NHL related questions to @KMcKenna_tLT5 to have them answered & be sure to use the hashtag #McKennasDigest
Kyle McKenna covers the NHL for Hooked On Hockey Magazine. He can be reached on Twitter (@KMcKenna_tLT5)