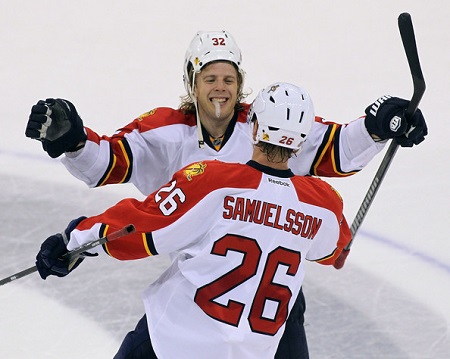 Just when I thought I was out, they pulled me back in.
At some unholy hour of the night, Florida Panthers GM Dale Tallon and Chicago Blackhawks boss Stan Bowman thought it'd be a nice idea to give each other a call, work out some kinks, and finalize a trade that would see forward Kris Versteeg and minor-leaguer Philippe Lefebvre shipped to the 'Hawks in exchange for forward Jimmy Hayes and defenseman Dylan Olsen.
In Versteeg, the Blackhawks receive a player that, when healthy, provides quality scoring depth and can slot into a bottom-six role with ease, contributing on the power play and-ideally-on the penalty kill . On top of that, the 'Hawks get a break in cutting his paychecks; the Panthers agreed to divvy up half of Steeger's yearly salary for the duration of his deal-an annual figure of $2.2 million over the course of three years (this season included)-most likely as a means of keeping their heads above the salary cap floor.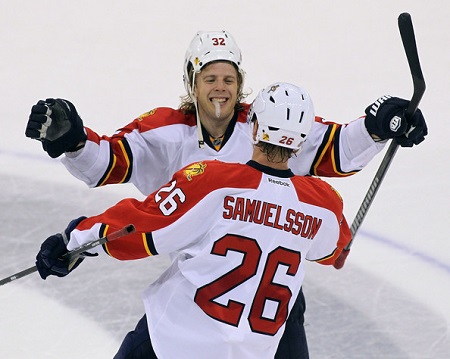 Lefebvre (damn, that's hard to spell), a minor-leaguer to this point in his young career, originally came over to Florida in a swap that saw the Montreal Canadiens receive George Parros (I'm still sour about that) and a 2014 seventh-round draft pick. Through nine ECHL games this season, the 22-year old left wing has posted a 2G-5A-7PT scoring line for the Cincinnati Cyclones, to go along with two PIMs and a plus-five rating. Upon arrival, Lefebvre will report directly to the Blackhawks' ECHL affiliate, the Toledo Walleye (Real talk, what's a Walleye? Who cares, they should be in Gainesville).
As for the Panthers' side of the deal, Jimmy Hayes represents an imposing presence on the ice. At 6'6″, he stands taller than anybody on the roster not named Erik Gudbranson, yet he possesses a scoring touch and soft hands around the net-or so they claim. Evident at the AHL level, his mitts have produced 76 points through 120 games, a number that appears to be on the rise. They have, however, yet to translate to major league production- through 43 career NHL games, Hayes has managed only six goals and a grand total of 13 points.
Dylan Olsen, the lone defenseman exchanged in the deal, is a former 2009 first-round pick of the Blackhawks. Having seen action in 28 career NHL games, he functions primarily as a stay-at-home D-man, who can sparingly provide offense. To date, he has generated 30 points through 152 AHL games. While the numbers don't impress at first, he has shown signs of development, consistently improving his point totals and plus/minus rating from campaign to campaign.
Both players, still considered prospects at this point in their careers, figure to report to the AHL's San Antonio Rampage-at least for the time being-where they will look to continue their development and provide jump to a squad that currently sits four spots removed from a playoff berth. Yes, I'm aware that they're only 14 games through the season.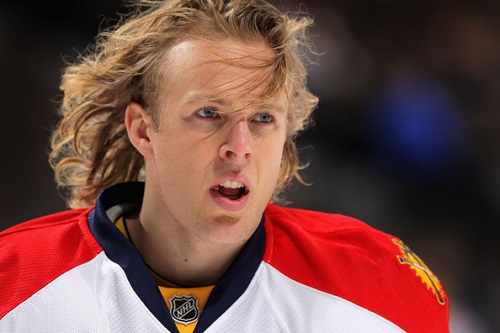 The Cats aren't getting much love for this deal, and I can see why- you can coach skill, but you can't coach flow.